Which Plant Milk is the Healthiest?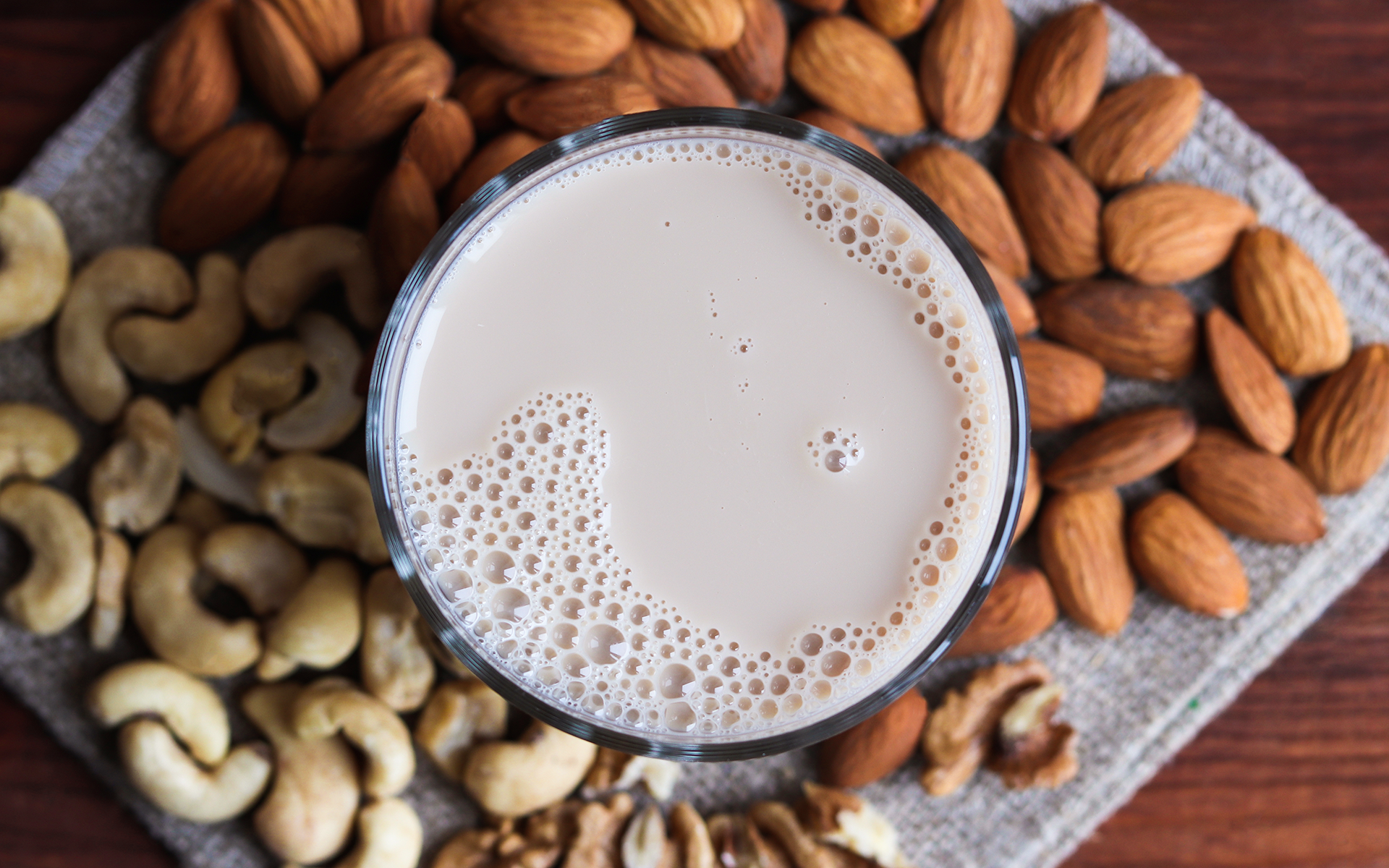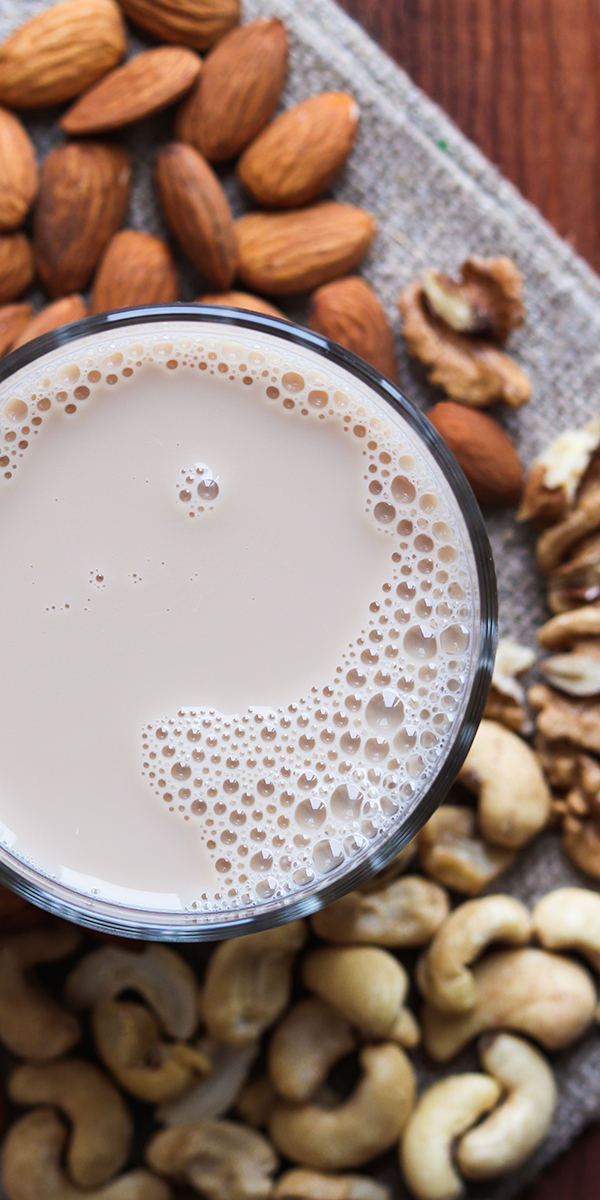 If you're making the simple switch to plant-based, you might be wondering, "which plant milk is the healthiest?"
We recently looked at the unnecessary nut milk additives and ingredients you'll find in other brands' Nut Milks here, and now we're going to dive into what makes our Plant Milks so nutritious.
All Elmhurst Nut Milks (and Oat Milks!) are made using our unique HydroRelease™ method.
What makes Elmhurst different? We pack more nuts and grains in every carton using our unique HydroRelease™ method. With HydroRelease, we're able to capture more of the nutritious good stuff to create smooth and creamy plant milks.
This way our Plant Milks are incredibly versatile and great for getting creative in the kitchen. You can use them on cereal, in coffee, for baking, and a whole lot more. Other brands just can't keep up– seriously, you can see and taste the Elmhurst difference in every recipe.
Learn more about HydroRelease™ here.
Unsweetened Almond Milk
We make our Unsweetened Almond Milk using just two ingredients: filtered water and almonds. Really, that's it. Without added junk like gums and oils, we can pack more whole almonds in every carton– up to 4x more than other brands for tons of plant-based nutrition in every creamy sip.
That way you get 5g of protein in every glass, not to mention other nutritious good stuff like iron and potassium. Our Almond Milk is also keto-friendly and easy to fit into paleo and gut-friendly diets.
Unsweetened Milked Almonds is great to sip, but it's also recipe-ready so you can add it to smoothies, soups, sauces and more. We love to use it in this Creamy Vegan Spinach Cauliflower Alfredo. With 18 almonds in every glass, our Almond Milk is an easy way to bring some of almond's health benefits to your weekly recipe rotation. Here's just a few of the reasons why we love almonds:
Rich in Vitamin E to help maintain healthy skin 1
Can help keep you feeling full and prevent weight gain2
Packed with good fats shown to help reduce risk of heart disease3
Unsweetened Cashew Milk and Lightly Sweetened Cashew Milk
Because Unsweetened Cashew Milk is made with just 2 simple ingredients, we're able to use up to 3x more cashews than other leading brands.
More plant-based deliciousness means more nutritious good stuff – every glass of Unsweetened Cashew is loaded with 4g of protein, 8.5g of healthy unsaturated fat, plus essential minerals like calcium, iron and potassium. Cashews pack some real nutritional benefits:
Shown to improve blood pressure and good cholesterol levels4
Can be added to your diet for an antioxidant boost5
Can be added to your diet for an antioxidant boost May help reduce risk of cardiovascular disease6
Cashew's also have a rich, buttery texture that's recipe-ready and perfect for smoothies, soups or sauces. Check out this Dairy-Free Blackberry Chia Pudding made with Unsweetened Cashew– it's a great nutrient-dense snack and the perfect way to start your day.
If you're craving something sweeter, we've added just 1g of Cane Sugar to our Lightly Sweetened Cashew Milk. We love to use this barista-approved variety in coffee, or steam and foam it for perfect plant-based lattes and cappuccinos.
Unsweetened Walnut Milk
You know the drill– Unsweetened Walnut Milk is made with just walnuts and water. But this variety also packs an extra nutritious punch. It's an excellent source of Omega-3 ALA (87% of your recommended daily value!) a good fat that can help support heart and brain health.
You might not be familiar with Walnut Milk, but this variety is a cult classic for good reason. Here's why walnuts are so beneficial:
May improve memory retention with Omega-3 ALA 7
Have more antioxidants than all other popular nuts8,9
Rich in polyphenols (micronutrients found in plants) which have strong anti-inflammatory properties and help prevent the development of some cancers,, 10,11,12
Unsweetened Walnut's toasty flavor is a fantastic choice for smoothies, iced coffee and your morning cereal. It's keto-friendly and easy to include in gut-friendly and paleo diets.
We recommend using it to boost this Avocado Green Smoothie recipe with some anti-inflammatory benefits.
Unsweetened Hazelnut Milk
Hazelnuts might be indulgent (toasted flavor, natural notes of cocoa), but they're also packed with some major health benefits:
Rich in Vitamin E, an important part of heart-healthy diets13
Loaded with immune-supporting B-Vitamins14
Shown to lower bad cholesterol and raise good cholesterol15
Our Unsweetened Hazelnut Milk is an excellent source of Vitamin E, and it's got 8.5g of healthy fat plus some potassium and calcium in every glass. Consider it proof that good-for-you can taste so good.
At just 90 calories, Hazelnut is the lightest option in our Unsweetened Family. And like our other nut milks, it's keto- and paleo- friendly. Try Unsweetened Hazelnut in these decadent Vegan Hazelnut Fudgesicles to get an extra bit of plant-based nutrition with your chocolate fix.
Unsweetened Oat Milk and Lightly Sweetened Oat Milk
Want the inside scoop on oat milks? Some brands use refined grains or oat flours that are stripped of their natural nutrients. But because we pack 25g of real whole grain oats in each glass of our Unsweetened Oat Milk, you get all of the oat's natural nutrition in every creamy sip.
Here's what makes whole grains so special:
Help keep you full longer with higher levels of protein and good fat16
Contain beta-glucan fiber to support a healthy gut 17
Promotes healthy blood-pressure as part of a balanced diet18
All of our oat varieties– from our Unsweetened, Lightly Sweetened and Chocolate Oat Milks, to our Oat Barista Edition and family of Oat Creamers– are made with 100% whole grain oats.
Try Unsweetened Milked Oats in this Simple Blueberry Smoothie Bowl for an extra bit of whole grain nutrition.
Pistachio Barista Edition & Oat Creamer
You can dive deep into why we love pistachios, but here are just a few of the reasons pistachios rule:
Support post-workout recovery with potassium, an essential electrolyte important to healthy muscle function19,20
Boost your immune system with B-vitamins necessary for fighting off infections21
Fend of cravings with protein and health fat to help keep you feeling full22
With 3g of protein, 4g of healthy fat and 650 mg of potassium in just 100 calories, Pistachio Barista Edition makes it easy to bring some of these benefits to your coffee routine. It steams and foams to create perfectly buttery plant-based lattes and cappuccinos. We even have a Pistachio Crème Oat Creamer made with real pistachio milk and just 1g sugar to add a touch of sweetness to any roast or blend, hot or iced.
This Vegan Salted Caramel Latte made with Pistachio Barista is unbelievably delicious– and all that plant-based nutrition is an extra bonus.
HOW OUR PLANT MILKS STACK UP
Still can't decide? Check out this handy comparison chart to find out which of our Unsweetened Plant Milks is right for you! Every variety is unique and offers some amazing health benefits, so it's all about picking the one that best meets your needs.
Check out our full range of Plant Based Milk here or view all our recipes for inspiration on how to use our Nut Milks in your routine.
---