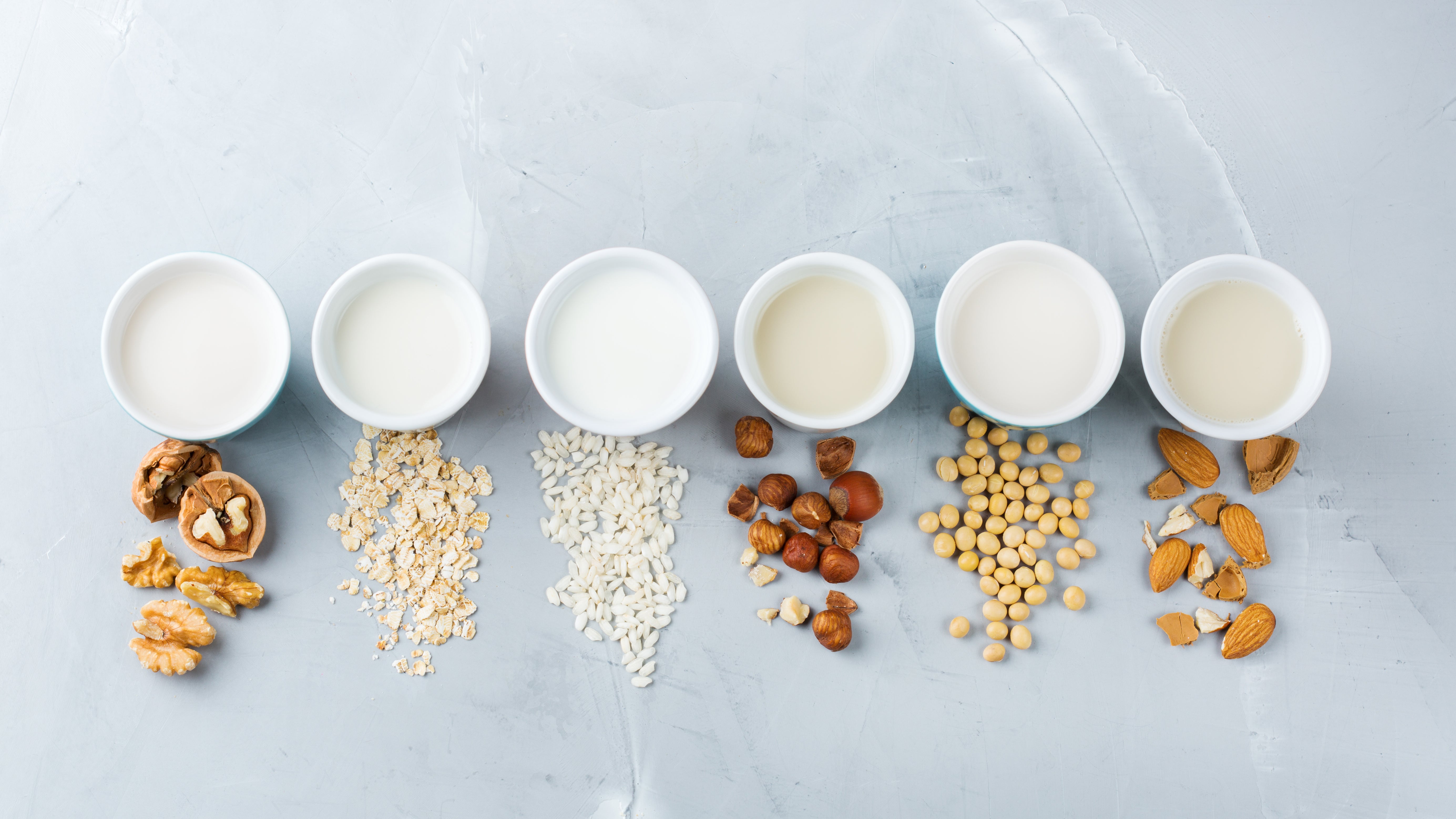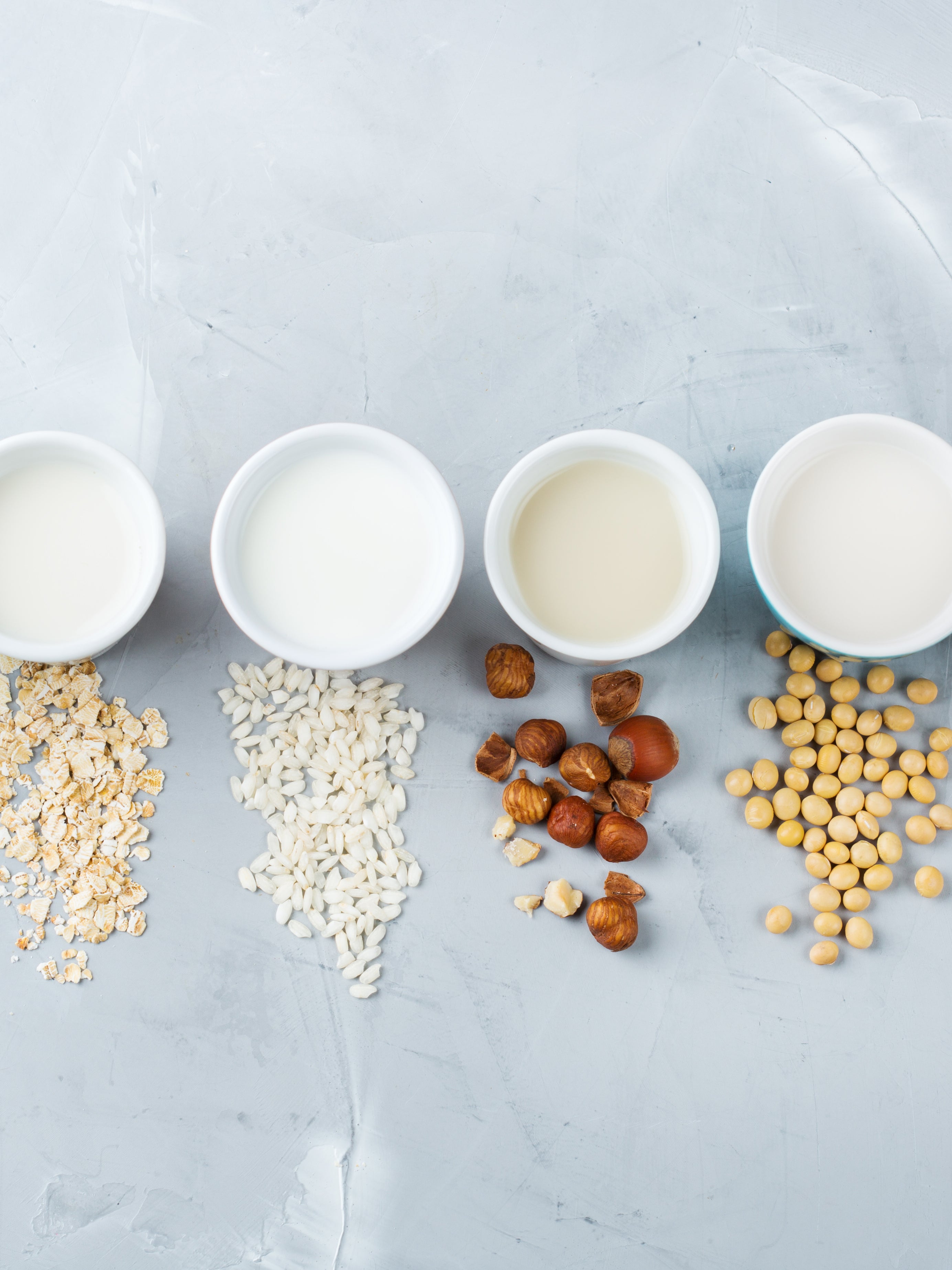 Almond, Cashew, Walnut, Hazelnut, and Pistachio– with so many Nut Milks to choose from, you might be wondering which variety is the best for you. Read more about each nut's unique benefits to find your perfect Plant Milk match.
Almond Milk
Almond Milk is the OG. Packed with vitamin E and healthy fats, almonds provide several nutritional benefits. No wonder they're known as the "queen" of the rose family. Here are just a few of the reasons why we love them.
Benefits of almonds
Almonds are rich in vitamin E, which helps to keep skin healthy

Snacking on almonds can help you feel full and prevent weight gain

The good fats in almonds have been shown to help reduce risk of heart disease
Elmhurst Milked Almonds
Many brands over-process their almonds, destroying the natural fibers and antioxidants. Your average Almond Milk uses as few as 3 to 4 almonds per serving. Not all Plant Milks are the same, though. Our unique HydroRelease™ method uses just water to capture more of the nut's vitamins, proteins and healthy fats. It also allows us to use more almonds in every glass, so you can get more nutrition in every sip. Elmhurst's Unsweetened Almond Milk has just 2 ingredients, 5 grams of protein, and up to 4x more almonds than other leading brands. Enjoy a glass or try it in smoothies, cereal, and recipes. You won't believe how deliciously creamy it is!
Walnut Milk
Walnuts are one of the oldest foods known to man. Many cultures throughout history believed walnuts boosted brain function– and they were right! You might not be familiar with Walnut Milk, but this underrated classic is one of our favorites. Here's why:
Benefits of walnuts:
Packed with omega-3 ALA, walnuts may improve memory retention

Walnuts have a higher antioxidant content than other popular nuts

They're also rich in some polyphenols (micronutrients found in plants) which have anti-inflammatory and antioxidant properties and help prevent the development of some cancers
Elmhurst Milked Walnuts
Most brands don't offer Walnut Milk. But we dare to go where other brands could never! Our Unsweetened Walnut Milk is made from walnuts and water. More walnuts in every carton make our Milked Walnuts an excellent source of omega-3 ALA. Its uniquely toasty flavor is perfect for iced coffee, oatmeal, and recipes!
CASHEW MILK
Cashews are rich, creamy, and buttery smooth. They deliver the ultimate Plant Milk experience, and some major nutritional benefits too! Once you try Cashew Milk, you won't go back.
Benefits of cashews
Proven to reduce blood pressure and increase good cholesterol levels

Shown to boost antioxidant status in individuals consuming a diet high in cashews over 8 weeks

May help reduce the risk of cardiovascular disease in individuals with metabolic syndrome by improving baroreflex sensitivity, an indicator of heart health
ELMHURST MILKED CASHEWS
We use up to 3x more cashews than other brands to make our Lightly Sweetened and Unsweetened Cashew Milks extra creamy. No oils, gums or fillers needed. Just the natural buttery goodness of whole, raw cashews! We love to enjoy Cashew Milk in smoothies, soups and sauce– it's the closest plant-based substitute for real dairy. And our Sweetened variety is even barista-approved to steam and foam for the perfect plant-based latte or cappuccino.
HAZELNUT MILK
Hazelnuts might be the most indulgent nut. They've got a toasty flavor with a natural hint of cocoa. And our Hazelnut Milk? Good-for-you never tasted soooo good.
Benefits of hazelnuts:
Rich in vitamin E to support heart-health

Packed with immune-supporting B-vitamins like riboflavin, niacin, thiamin, pantothenic acid, pyridoxine (vitamin B-6), and folates

Shown to decrease bad cholesterol and increase good cholesterol
ELMHURST MILKED HAZELNUTS
Our Unsweetened Hazelnut Milk is made with just nuts and water– it's that simple. And with up to twice as many hazelnuts as other leading brands, you're getting more of the nutritional goodness that makes hazelnuts so special. Our Hazelnut Milk has a rich flavor, but it's light enough to enjoy a glass on its own. So sip it straight or add to iced coffee, or use it when cooking baked goods and pastries.
PISTACHIO MILK
Of all the nuts, pistachios give off the strongest "healthy & wealthy" vibes. They're chock full of powerful nutrients, antioxidants, and benefits that don't get enough shine. Here are just a few of the reasons we love pistachios:
Benefits of pistachios
As a complete protein, they have all the essential amino acids our bodies need to build and repair muscles

From protein that helps maintain healthy immune cells, to B-vitamins necessary for fighting off infections, pistachios are packed with nutrients vital to our body's first line of defense

A nutritious 1-2 punch of protein and healthy fat helps keep you feeling full
ELMHURST PISTACHIO OAT CREAMER & BARISTA EDITION
Our Pistachio Créme Oat Creamer is totally free from cholesterol and saturated fat to add a touch of decadence to coffee or tea without sacrificing heart health. With just 1g of sugar per serving, you can pour a little or a lot and enjoy all the pistachio deliciousness you want. If you're looking to make the perfect plant-based latte, our Pistachio Barista Edition is the one for you. With 3 grams of protein and 4g of good unsaturated fat, this made-for-coffee Plant Milk is an easy way to help your lattes and cappuccinos keep you fueled up longer
WHY CHOOSE ELMHURST NUT MILK?
Elmhurst is the original clean-label Plant Milk. Our Nut Milks aren't fake creamy, they're real creamy. Forget gums, fillers and other added junk. We use just a few simple ingredients in all of our Plant Milks. From fan-favorites like Almond and Cashew, to underrated cult-classics like Walnut, Hazelnut and Pistachio, we've got unique varieties so you can find your perfect match.