Is Oat Milk Good for You?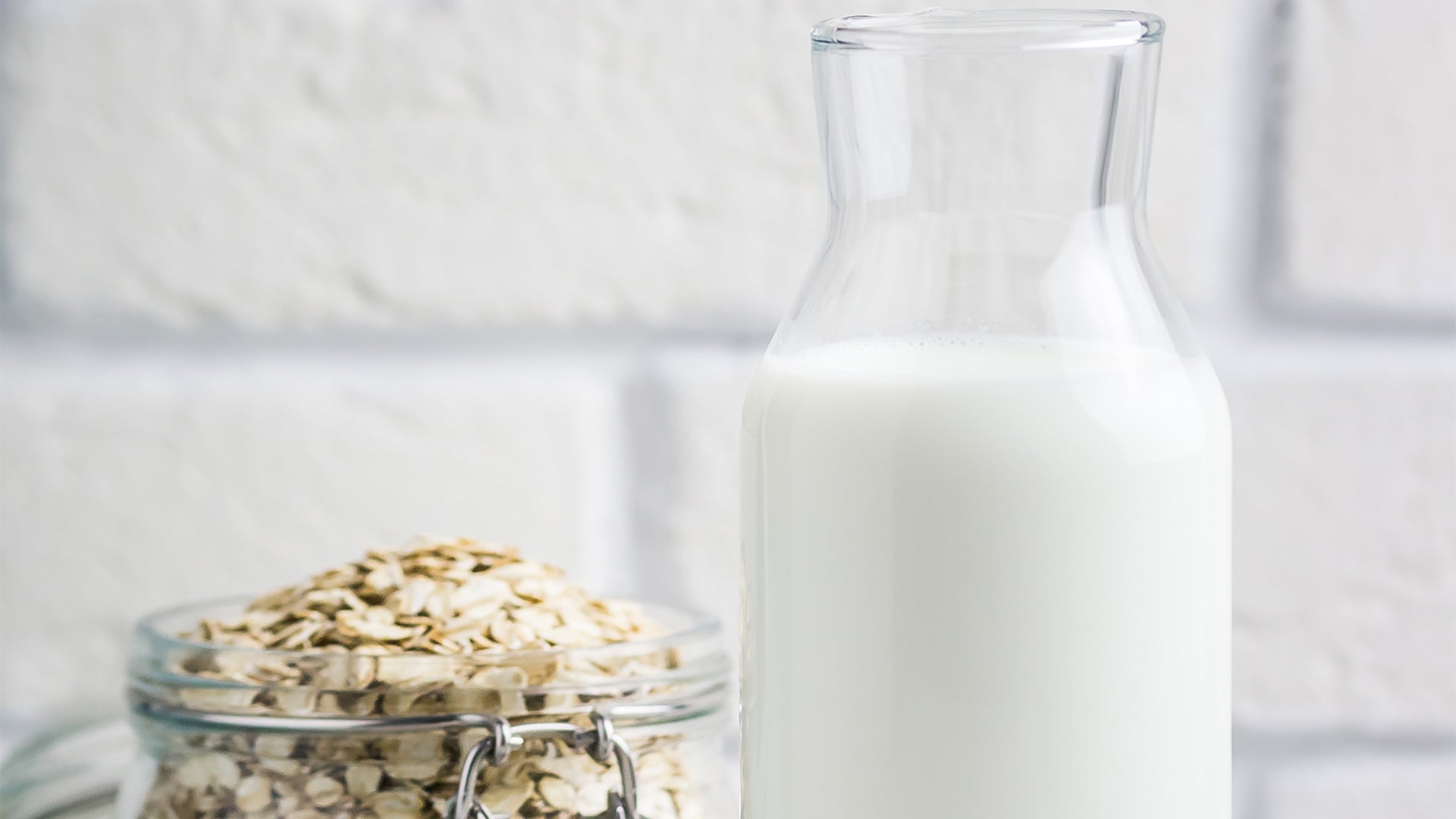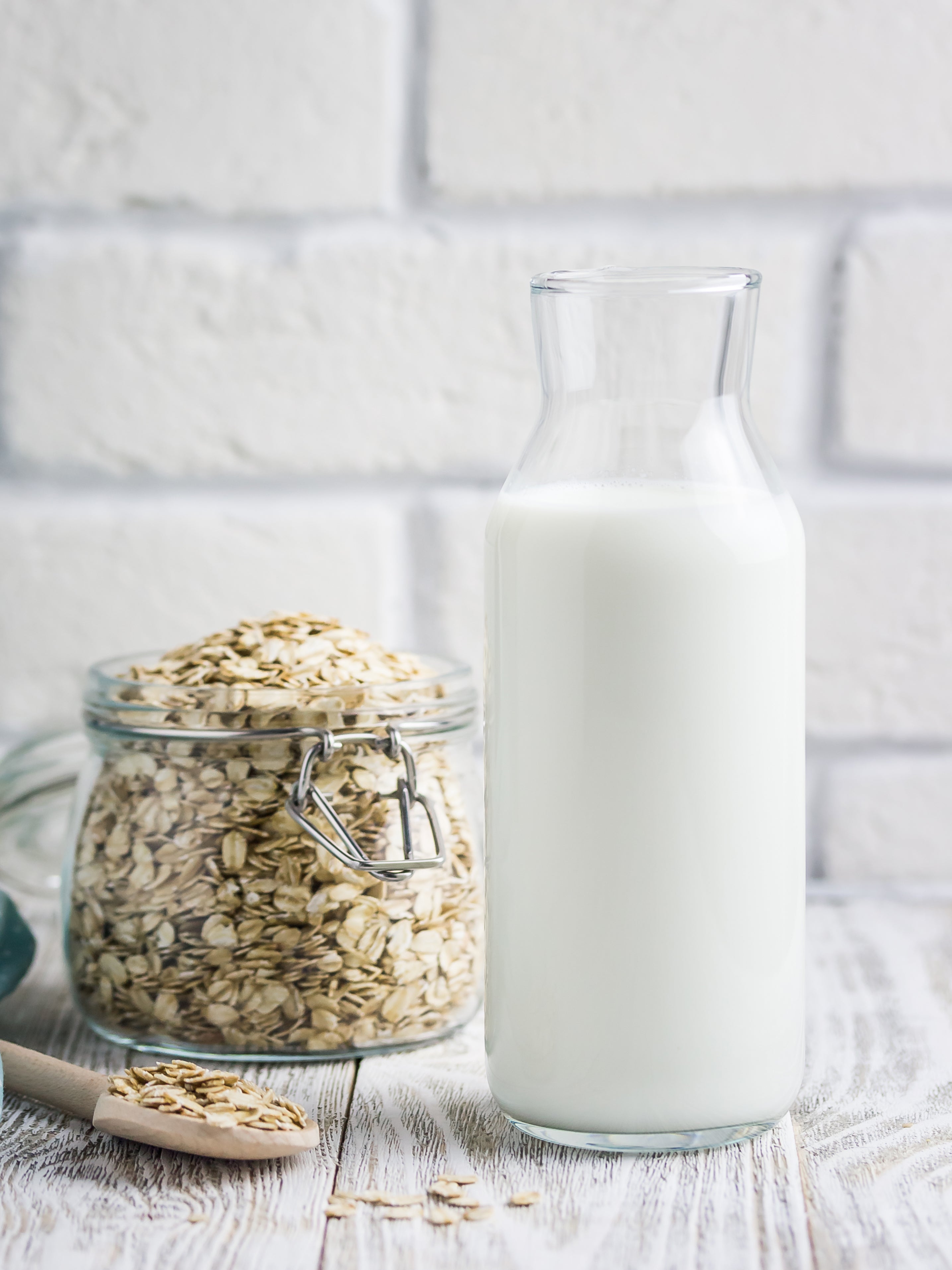 Oat milk emerged on the heels of nut milk's unforeseen ascent at the dawn of this present decade. While almond milk may be credited as the impetus to the plant-based beverage craze extending beyond traditional soy and rice milk options, oat milk has attracted consumers with stunning rapidity.
Indeed, it seems that oats have always been destined for greatness, or at least greater than the stodgy bowls of oatmeal our parents used to serve us for breakfast. Here are some interesting facts to whet your appetite for oat milk:
Oat Milk Nutrition: Is Oat Milk Good for You?
We certainly think so. Oat milk is a nut-free, soy-free and dairy-free beverage, making it an exceptional choice for people with dietary intolerances and restrictions. Commercial oat milk options can come in sweetened, unsweetened, flavored, and barista varieties. We've surveyed the field to provide these nutritional ranges for the most popular varieties, specifying Elmhurst's content.
Calories

Unsweetened: 80-100 kcal (Elmhurst: 80 kcal)
Sweetened: 90-130 kcal (Elmhurst: 100 kcal)

Fat

1.5-7g fat, predominantly monounsaturated (Elmhurst: 1.5g)

Carbs

Unsweetened: 9-14g carbs (Elmhurst: 14g)
Sweetened: 14-25g carbs (Elmhurst: 18g)

Protein

1-4g protein (Elmhurst: 4g)
A primary reason for such variance is rooted in differences in the processing and formulation methods between brands. The metamorphosis of oats into a creamy milk typically involves a soaking and blending of steel cut or rolled oats with water, finished with a straining of any leftover granular pieces to ensure a smooth product. While well intentioned, this last step also results in the disposal of many of the oats' resident nutrients. To rectify this shortcoming, brands will often add sugar, thickening agents and/or vegetable oils to make up for the loss in flavor and texture, as well as inject synthetic versions of micronutrients (such as vitamins A, D, B2, B12, and calcium). This may seem like a sensible solution, but in reality, it's quite dangerous. Evidence shows that for all foods, their inherent vitamins and minerals comprise a unique matrix of nutrients that exist in perfect proportion to one another, synergizing for optimal uptake and bioactivity in us. Fortification not only disrupts this harmony; it actually induces nutrient deficiencies and takes away from the health benefits of oat milk!
Unsweetened Oat Milk
At Elmhurst, we believe nature is always sufficient for providing everything we need to thrive. Our patented HydroRelease™ process separates the individual components of oats and repackages them to preserve their original nutrition. This allows us to rely primarily on the intrinsic sweetness and creaminess of the oats, delivering a product with 16-20g of whole grains per serving and devoid of any unnecessary additives. Abiding by our "simpler is better" motto, our unsweetened oat milk is made of just 3 ingredients (filtered water, whole grain oats, salt), and our sweetened oat milk and barista oat milk varieties have 5 just ingredients (filtered water, whole grain oats, cane sugar, salt, and natural flavors or dipotassium phosphate). Moreover, we certify that the oats we use are gluten-free, so our beverages can be freely enjoyed by individuals with sensitive stomachs or celiac disease.
Oat Milk Benefits
As noted above, oat milks differ in the manner by which the oats are processed and the milks are formulated, so heed carefully the nutritional information on their packages to ensure you are getting a whole grain product! According to the American Heart Association and Whole Grains Council (find their stamp on all of Elmhurst's oat milk packages), there are copious reasons for why you should include oats in your diet. They are:
Rich in antioxidants

Most notably high in ferulic acid 4 and a group of antioxidants called avenanthramides, 5 which increase the production of nitric oxide to stimulate dilation of blood vessels for better blood flow and reduced blood pressure 6-8
One study found that the antioxidants in oats work together with vitamin C to prevent oxidation of LDL cholesterol 9

High in soluble fiber

Beta-glucan, the soluble fiber in oats, partially dissolves in water, forming a thick, gel-like substance that binds cholesterol and delays stomach emptying, thereby reducing absorption of cholesterol and glucose while promoting a healthy microbiome 10
Data from clinical studies has demonstrated beta-glucan's ability to:

High in insoluble fiber

Studies indicate that oat bran, the fiber-rich outer layer of the grain, may help relieve constipation in older people 17
Oat Milk Recipes
Oats aren't just a wholesome breakfast staple or base for granola anymore. To help broaden your horizons, we are providing recipes from three popularly searched categories, each created by Elmhurst's own Chef Tristan Hall.
Why Choose Elmhurst?
We can answer this question with another simple question: Are you getting the most from your oats? Though oat milk may, by nature, sound like a good idea, many brands dilute the oat's value by straining the milks and adulterating them with unhealthy additives. This is not the way to go if you don't have to, and fortunately, Elmhurst offers a better way forward. Thanks to a process that retains the full flavor and nutrient spectrum, Elmhurst is able to offer a superior product, truest to nature's intention.
References
Carr K. The history of oats: Where do oats come from? Quatr.us Study Guides 2017; https://quatr.us/west-asia/oats-come-west-asia.htm. Accessed 2019, 2019.
Oat 2008; https://www.newworldencyclopedia.org/entry/Oat. Accessed June 20, 2019, 2019.
Lin TK, Zhong L, Santiago JL. Anti-Inflammatory and Skin Barrier Repair Effects of Topical Application of Some Plant Oils. International journal of molecular sciences. 2017;19(1).
Hitayezu R, Baakdah MM, Kinnin J, Henderson K, Tsopmo A. Antioxidant activity, avenanthramide and phenolic acid contents of oat milling fractions. Journal of Cereal Science. 2015;63:35-40.
Meydani M. Potential health benefits of avenanthramides of oats. Nutrition reviews. 2009;67(12):731-735.
Nie L, Wise ML, Peterson DM, Meydani M. Avenanthramide, a polyphenol from oats, inhibits vascular smooth muscle cell proliferation and enhances nitric oxide production. Atherosclerosis. 2006;186(2):260-266.
Liu L, Zubik L, Collins FW, Marko M, Meydani M. The antiatherogenic potential of oat phenolic compounds. Atherosclerosis. 2004;175(1):39-49.
Sur R, Nigam A, Grote D, Liebel F, Southall MD. Avenanthramides, polyphenols from oats, exhibit anti-inflammatory and anti-itch activity. Archives of dermatological research. 2008;300(10):569-574.
Chen CY, Milbury PE, Kwak HK, Collins FW, Samuel P, Blumberg JB. Avenanthramides and phenolic acids from oats are bioavailable and act synergistically with vitamin C to enhance hamster and human LDL resistance to oxidation. The Journal of nutrition. 2004;134(6):1459-1466.
Wikipedia. Oat beta-glucan. 2019; https://en.wikipedia.org/wiki/Oat_beta-glucan. Accessed June 20, 2019, 2019.
Onning G, Wallmark A, Persson M, Akesson B, Elmstahl S, Oste R. Consumption of oat milk for 5 weeks lowers serum cholesterol and LDL cholesterol in free-living men with moderate hypercholesterolemia. Annals of nutrition & metabolism. 1999;43(5):301-309.
Nazare JA, Normand S, Oste Triantafyllou A, Brac de la Perriere A, Desage M, Laville M. Modulation of the postprandial phase by beta-glucan in overweight subjects: effects on glucose and insulin kinetics. Molecular nutrition & food research. 2009;53(3):361-369.
Jenkins AL, Jenkins DJ, Zdravkovic U, Wursch P, Vuksan V. Depression of the glycemic index by high levels of beta-glucan fiber in two functional foods tested in type 2 diabetes. European journal of clinical nutrition. 2002;56(7):622-628.
Tapola N, Karvonen H, Niskanen L, Mikola M, Sarkkinen E. Glycemic responses of oat bran products in type 2 diabetic patients. Nutrition, metabolism, and cardiovascular diseases : NMCD. 2005;15(4):255-261.
Rebello CJ, Chu YF, Johnson WD, et al. The role of meal viscosity and oat beta-glucan characteristics in human appetite control: a randomized crossover trial. Nutrition journal. 2014;13:49.
Valeur J, Puaschitz NG, Midtvedt T, Berstad A. Oatmeal porridge: impact on microflora-associated characteristics in healthy subjects. The British journal of nutrition. 2016;115(1):62-67.
Sturtzel B, Elmadfa I. Intervention with dietary fiber to treat constipation and reduce laxative use in residents of nursing homes. Annals of nutrition & metabolism. 2008;52 Suppl 1:54-56.