How to Make Creamy Vegan Pumpkin Apple Soup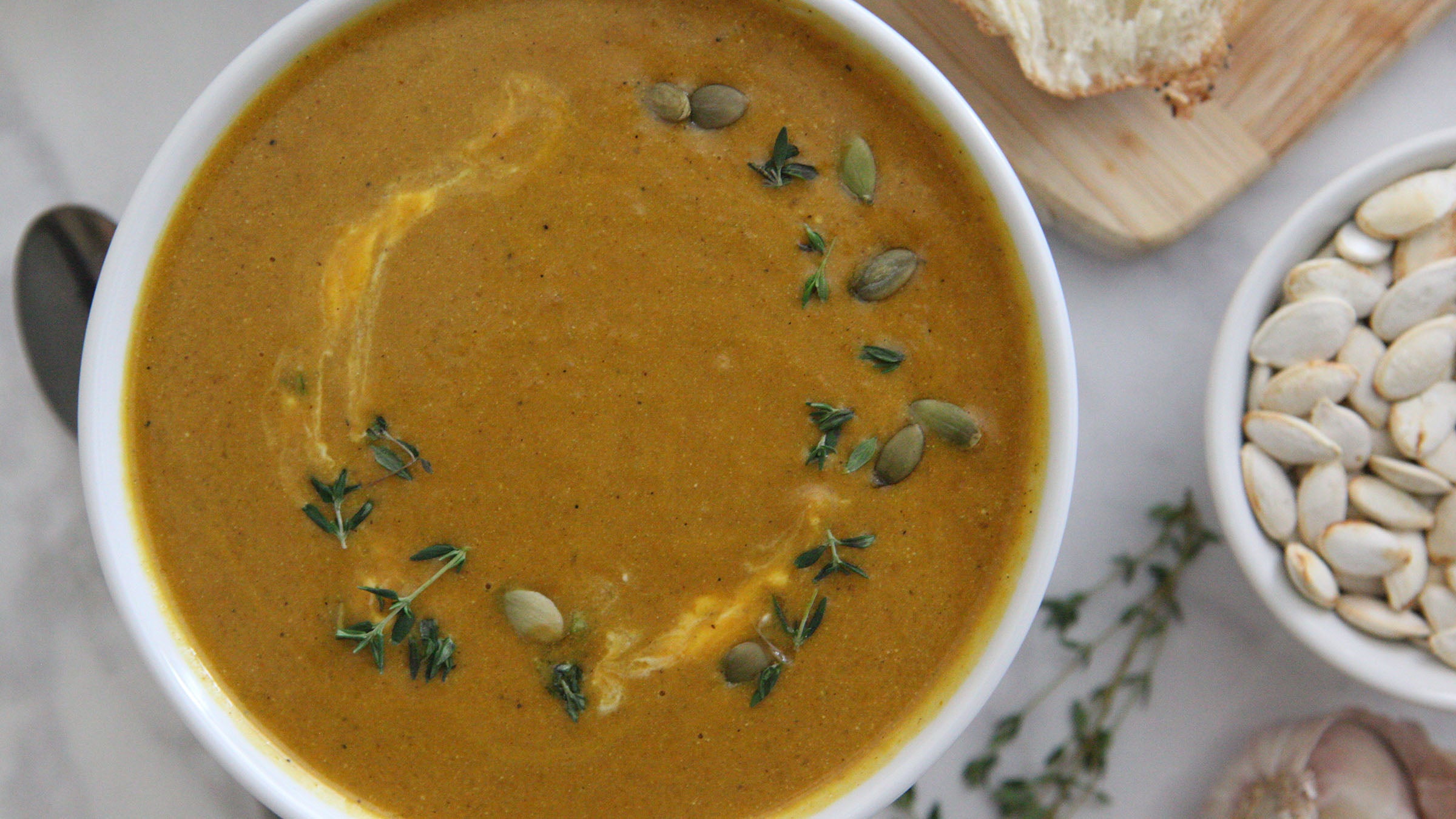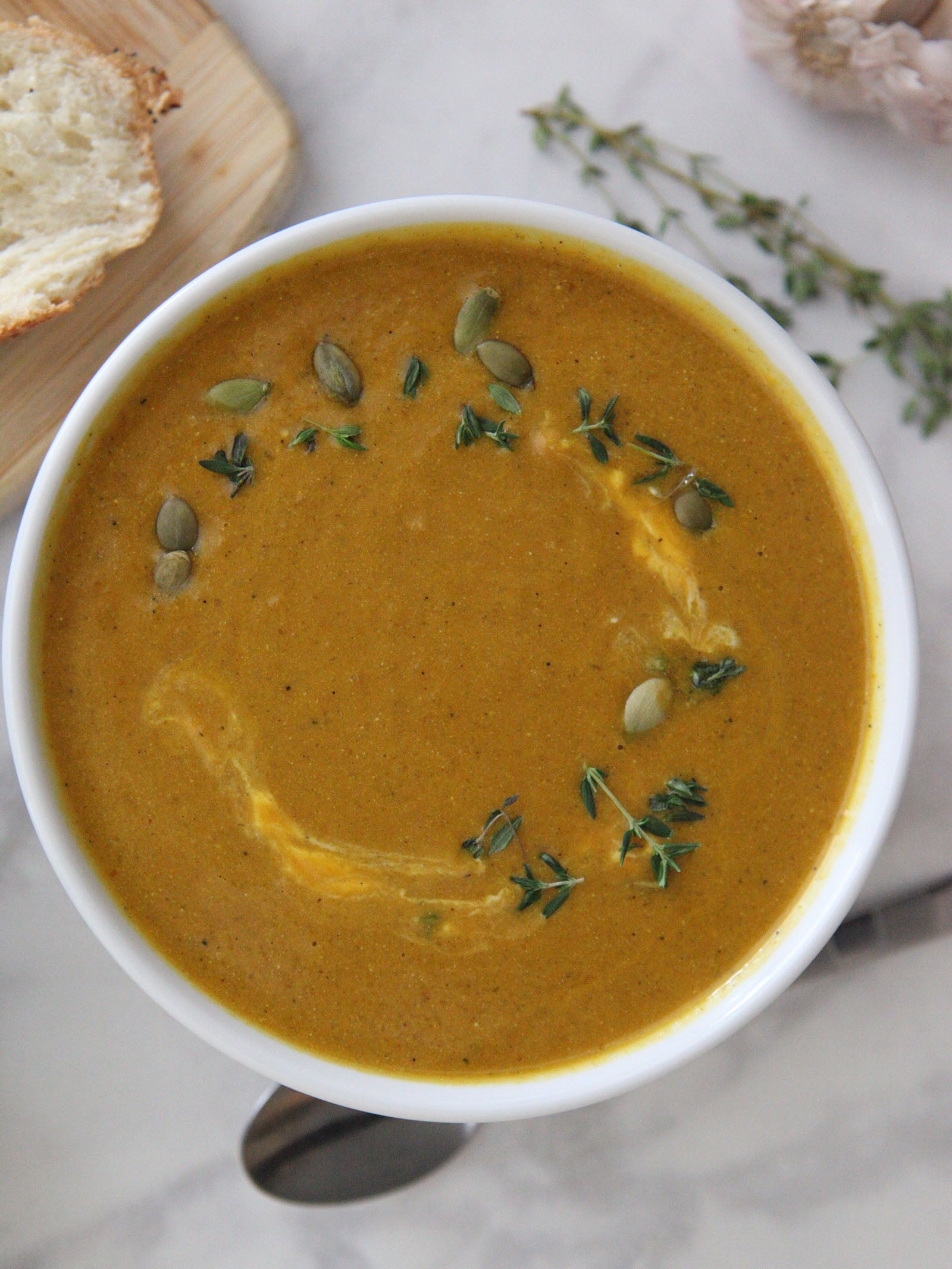 There's no more wondering "What soup should I make?" Get ready to meet your new favorite soup with this easy recipe. The most comforting, creamiest, warm soups help us deal with chilly evenings and rainy days and keep us fueled up when you just want something simple and delicious since it's ready in just 4 simple steps.
And creating a creamy pumpkin soup without dairy may revolutionize your cooking routine. Once you've this dairy-free recipe out, it's sure to be one you'll want to make again and again. Easy to share, this soup is dairy free, gluten-free, vegan, and full of the nutrients to keep your body feeling its best.
How to Cook with Pumpkin
Pumpkins are a type of winter squash, related to butternuts, acorn squash, and many other hard-skinned and orange-fleshed vegetables. Some pumpkins, like the ones you typically see carved into jack-o-lanterns, are bred for size and color alone and don't taste great, while others have a richer flavor and higher sweetness that make them ideal for cooking.
Is pumpkin good for you? Pumpkin is a very nutrient-dense food that should play a role in every diet, but it's especially valuable if you're plant-based or vegan. Just an ounce of pumpkin provides more vitamins and nutrients than many other foods. In one cup of chopped pumpkin, you'll get 2 grams of protein, 3 grams of fiber, 16% of your recommended daily intake (RDI) of potassium, nearly half of your RDI of Vitamin C, and 11% RDI each of copper, magnesium, and riboflavin. That's a lot of minerals and vitamins in just a small amount of pumpkin.
Choosing the right Pumpkin
If you want to start from scratch with a fresh pumpkin, you'll get much more flavor and slightly more nutrients than from canned puree. When deciding which pumpkin is best for soup, stick with those pumpkins labeled for pie use. They're not too sweet, cook quickly and have soft enough flesh to blend into a creamy soup. Pumpkins grown for decorative use tend to stay firm and watery no matter how long they're cooked and can have a bitter or unpleasant taste. Some popular and widely available pie pumpkin varieties include Baby Cheese, Jarrahdales, Blue Hubbards, and Kabocha.
Storing a fresh pumpkin properly after bringing it home will preserve its flavor and texture until you get a chance to use it. Avoid cutting it up or carving it and leaving it out because it will lose moisture quickly. Left whole, you can store your pumpkin somewhere dark and cool (between 50 and 70 degrees) for up to three months. If you plan to store it for more than a month or so, choose one with the stem intact so it doesn't lose moisture through the opening at the top.
Prepping & Peeling your Pumpkin
Some people cut the entire pumpkin up, roast the pieces, then scoop the flesh out to leave the peel behind. The entire process can go a little quicker if you peel the pumpkin first, but this isn't always easy. Pumpkins with less deep ribs around the sides are easier to peel. Take a sharp, serrated knife and gently trim away the peel from the top of each rib around the sides. Roll the pumpkin on its side to slice off the remaining peel from the top and bottom, then cut it in half if you want to clean the interior out before roasting or steaming. If you're wondering "Can pumpkin be frozen?" the good news is yes, it's easy to freeze either chopped into small cubes raw or as a puree after cooking.
How to Make Creamy Dairy-Free Pumpkin Apple Soup with Plant-Based Milks
Now that we know pumpkin is a great addition to your eating routine, are apples good for you too? The apples in this soup don't just add a sweet flavor, they also boost the nutrition. With 5 grams of fiber, valuable natural phytonutrients, and antioxidants, apples can help support your gut function, aid with inflammation, help control blood sugar and help maintain your overall health.
Creamy soups like this one generally require blending to achieve that perfectly smooth, creamy texture. Your two options for blending soups are to use a high-quality, heat safe countertop blender or to try an immersion blender. An immersion blender may be easier in this case since they can be used directly in the pot with the soup while still hot. If opting to use your blender and it isn't heat-safe, you'll need to let the ingredients cool down before blending to avoid damaging it. We also recommend blending this soup in batches to avoid spills or overfilling your blender.
To make this soup extra smooth and rich without any dairy, we used Elmhurst® Unsweetened Milked Almonds™ because the subtle nutty flavor and creaminess of the almond milk paired best with the pumpkin and apple. Almond also adds a nutritional punch of its own (you can learn more about the benefits of almond milk here) but it isn't the only option that you can try, others that will work just as well are our Milked Cashews™ or our Milked Walnuts™ for an extra layer of flavor.
If you don't have time to find a fresh pumpkin and cook it from scratch when you're craving for this soup kicks in, you can also start with a high-quality canned pumpkin puree instead. But be careful not to confuse puree for pumpkin pie filling, which features spices, sweeteners, and starches so it thickens when cooked. Pumpkin puree should contain little more than cooked pumpkin, making it ideal for this recipe. If you can find it, purees cooked from heirloom varieties tend to offer a surprising amount of flavor for canned pumpkin.
Tips for the Best Bowl of Soup
Is your soup too salty? Cook up a sweet potato or white potato, mash it, and add it to the soup. This helps balance out the salt. You'll need to add more liquid as well, which can be water, vegan stock, or a plant-based milk.
Soup too thick? This is easy to fix without having to remake the dish. Simply add more of your favorite liquid from the recipe, whether it's the almond milk or broth. Stir it in until it's the right consistency for you.
Soup too sweet? Add a few pinches of salt, some extra liquid, and possibly a cooked sweet or white potato. You may need to add in more seasoning after this to balance out the flavor. Use less apple or choose a tarter variety next time. If opting for can be sure to check the pumpkin you're using to see how much sugar it's contributing.
Will soup thicken as it cools? In most cases, the soup will get slightly thicker as it cools and nearly twice as thick when refrigerated overnight. You can thin out the soup if it gets too thick with more almond milk.
Can soup be frozen? This soup is easily frozen. Try to remove as much air as possible from the storage container and only store for six months to a year for the best quality.
Ingredients
6 cups Vegetable Broth
3 cups Apple, peeled & chopped
2 cups Onion, diced
2 lbs Pumpkin, peeled, seeded, & diced
½ cup Olive Oil
5 Tbsp Curry Powder
2 tsp Salt
1 tsp Garlic powder
Makes 8-10 Servings
Preparation
In a large pot, warm the oil over medium heat. Add the pumpkin and onion and cook for 5 minutes.
Add the spices and stir to evenly distribute. Next add the vegetable stock and bring to a boil. Reduce to a simmer and cover for about 10 minutes, stirring occasionally.
Add the chopped apples and continue to simmer for an additional 10 minutes or until everything is very tender.
Remove from heat. Using an immersion blender, puree the vegetables until a thick, smooth consistency is reached. A heat safe blender can also be used for this step, blending in batches.
Return to heat and stir in the unsweetened almond milk. Cook for an additional 5 minutes or until heated through. Serve hot and enjoy.
Tag us if you try it!
Whether you make this dish all for yourself or serve to a crowd, we'd love for you to share photos or videos of it when you do! Tag us @elmhurst1925 or #ElmhurstRecipes for a chance to be featured on our page.
Newest Recipes