How to Make Dairy-Free Apple Pie Fudge Cups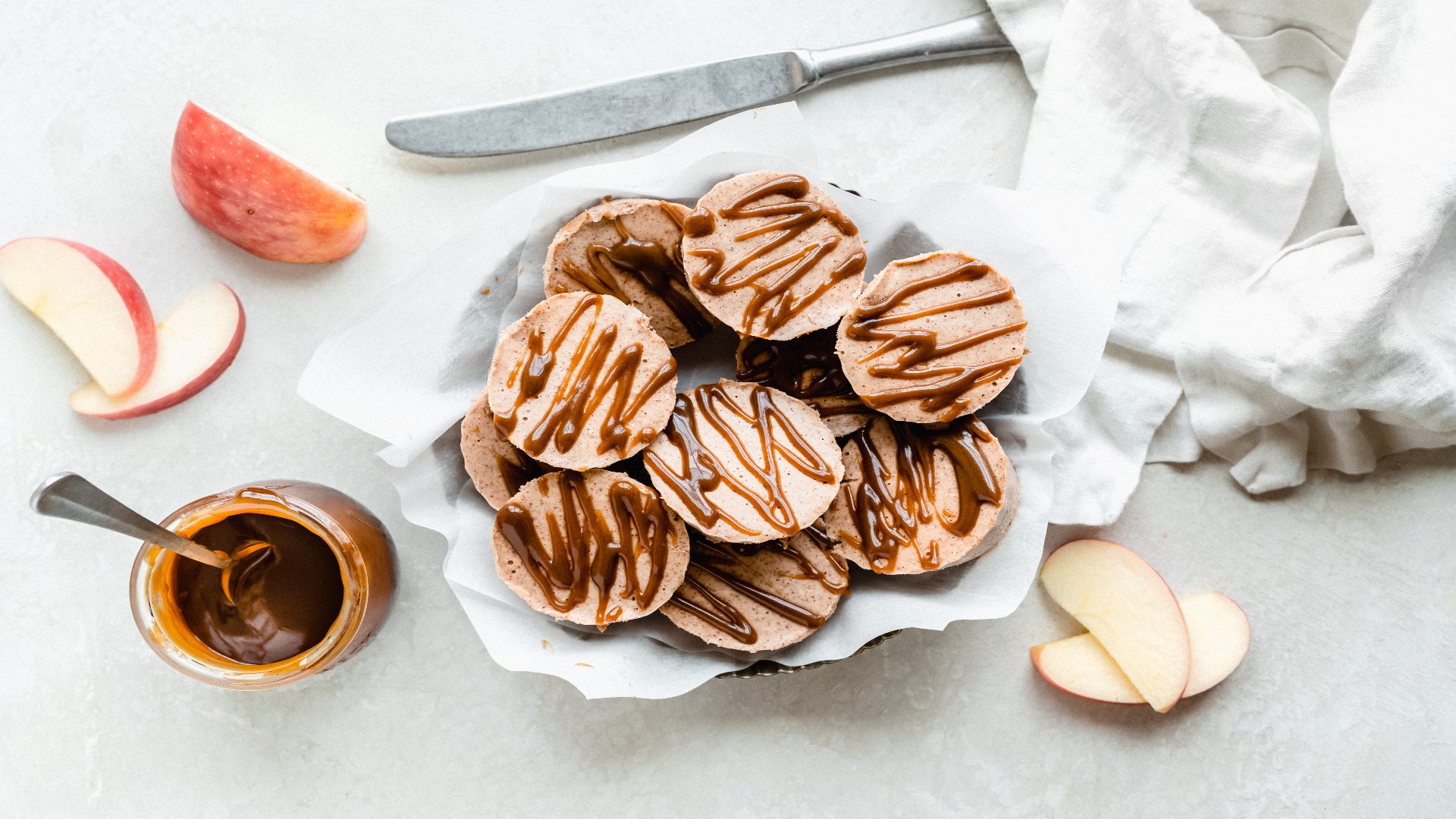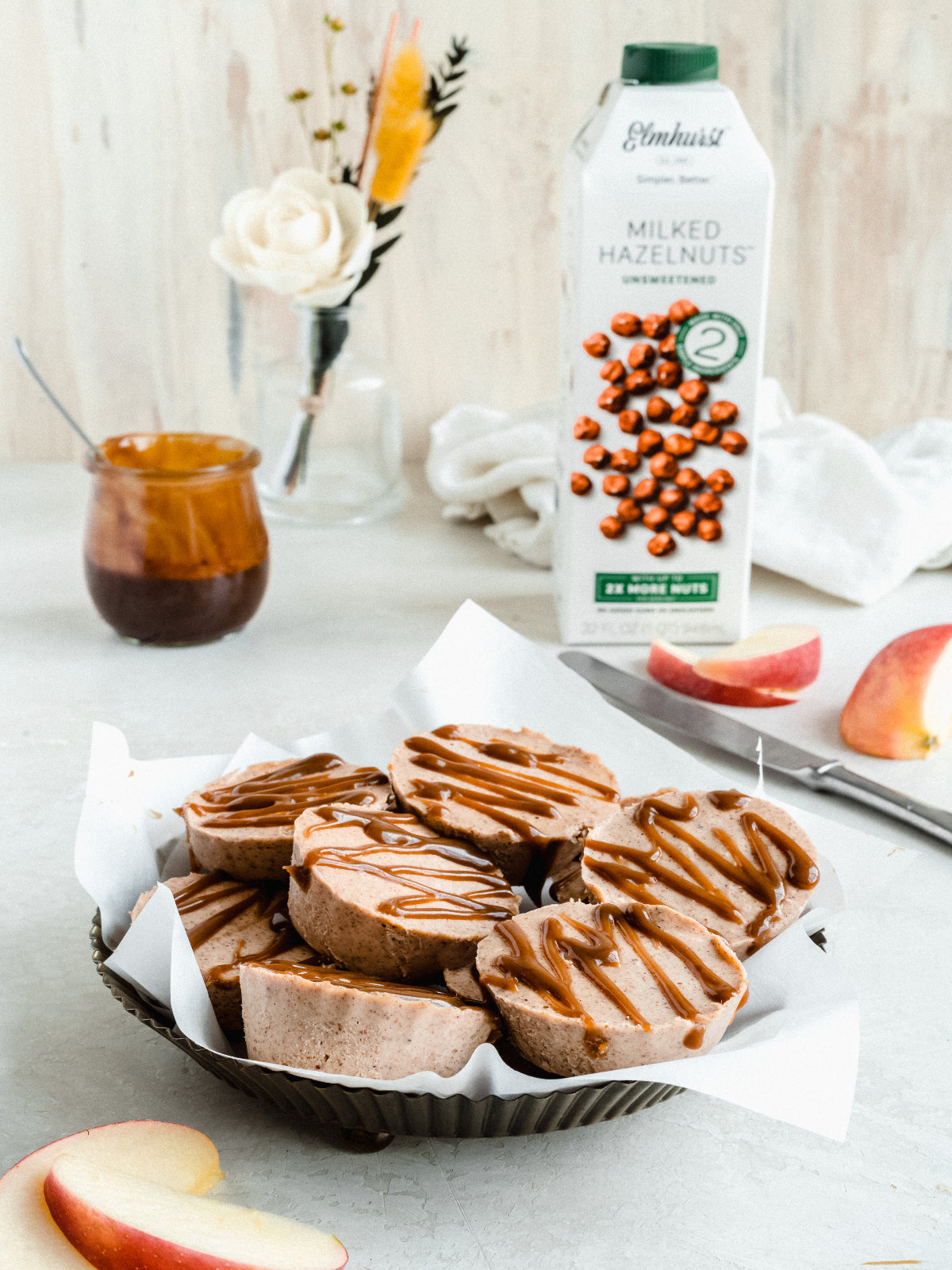 Everyone loves apple pie and there is never a time when it doesn't taste great. Some people even eat apple pie for breakfast! This plant-based recipe for Apple Pie Fudge Cups is a nostalgic throwback to Grandma's Classic Apple Pie, but the bonus is that these tasty treats are vegan, dairy free, and gluten-free.
No worries if baking pastries isn't your thing. This easy dessert recipe has only 5 ingredients and 3 simple steps. And don't let the fudge part of the recipe title throw you off either - fudge doesn't have to be complicated. We'll help you out with step by step recipe instructions, and even tell you how to store these snacks for later. If you need a great gift for friends, a simple dessert to pass, or just want something homemade to nibble on any time, try this easy recipe!
MacIntosh, Granny Smith, or Golden Delicious—Which Apples Are the Best Apples for Apple Pie?
Apples are classic lunchbox snacks. Crisp, sweet, and juicy, a good apple hits the spot anytime you're in need of a quick pick-me-up. They fit easily in your bag or pocket and there's no wrapper or packaging to have to worry about. What's not to like about an apple?
Apples are one of the most commonly grown tree fruits and have been cultivated by humans for over 6,000 years. While in modern times, they are grown all over North America, apple trees originated in Central Asia, were taken by traders to Europe, and then later made the journey across the Atlantic Ocean to North America by way of European colonists.
Almost everyone has heard the saying "An apple a day keeps the doctor away." While this saying isn't completely accurate, it is true that apples are powerhouses – nutrient dense, low in calories, packed with fiber, and fat free. Apples contain many vitamins and minerals, particularly potassium and Vitamin C. An interesting thing about apples is that even though they are mainly carbohydrates, they have a relatively low impact on your blood sugar because of their high fiber content. No more wondering, "Are apples good for you?" Indeed, they are!
Choosing the Right Apples
Apples can vary widely in taste, color, and texture. While there are over 7,500 apple varieties grown across the world, only about 1,000 varieties are grown commercially in the United States. Still, with so many apples how do you choose one for eating, cooking, or baking? Does it really matter whether you use a Rome or a Golden Delicious in your pie? Or if you're simply snacking, should you buy Winesap or Honey Crisp?
Actually, it does matter what variety that you buy. Each apple has its own flavor profile, varying in tartness, sweetness, and other flavors. Like a fine wine, an apple can have slight floral flavors or even spicy hints. Additionally, apples have varying textures like the extremely firm Granny Smith and the much softer Red Delicious.
In general, harder, more tart apples are better for baking. Granny Smith, Golden Delicious, and Honey Crisp apples hold up well to the temperatures of baking without dissolving into mush. They also offer complexity of flavor that pairs well with the spices and sugars of most baked apple recipes. Jonathan, Jonagold, Cortland, and Braeburn are also some of the best apples for pie, while you can still eat them raw if you like. All these choices are excellent, but the best bakers recommend that you mix and match two or three varieties to give complexity to the flavor of your pie or dessert.
Other apples, like Gala and Paula Red apples are perfect for snacking. They are usually a little sweeter than the other baking varieties and are also good for making sauce, since they break down easily when exposed to high temperatures. Fuji, Empire, Gravenstein, and Winesap are other good apples for eating raw.
Of course, you can buy apples from the grocery store, but for the freshest apples (fresher apples will be more flavorful) you may want to visit a farmer's market. Or for the freshest apples possible, you might be lucky enough to only be a short drive away from an apple orchard to pick them yourself!
How to Store Fresh Apples
Once you bring your apples home, it's important to store them properly. While a bowl of apples on the table looks picturesque, they will spoil more quickly at room temperature. If your family will eat them within three or four days, then storing them on the counter is fine. However, if you want to keep them longer, store them in the crisper drawer of your refrigerator. Ideally, apples keep best between 34-36 degrees with high humidity. Try to use any apples with bruises or imperfections first, since these fruits will spoil most quickly.
Are you wondering, "Can apples be frozen?" The answer is yes! If you want to freeze apples, peel, core, and slice them and then place the slices in zip top freezer bags or an airtight container with a tablespoon of lemon juice to prevent browning and freeze them for up to six months. You can use the defrosted apple slices for baking, sauces or smoothies but they won't be as ideal for snacking.
How to Make these Vegan Easy Apple Pie Fudge Cups with Plant-Based Milks
Have you ever wondered, exactly what is fudge? Most of the time, people use the word fudge to refer to a cooked chocolate candy containing sugar, butter, and milk. However, the word has evolved to include a variety of other treats, most of them with the familiar, creamy, smooth texture of fudge. In modern times, fudge doesn't have to be chocolatey either. Vanilla fudge, peppermint fudge, and of course, apple pie fudge are all great examples of tasty treats.
For this recipe, the apples will need to be baked before they are incorporated into the recipe. Don't fret about how to bake apples, it's simple to do. Take two apples, wash, peel, core, and chop them, toss them in coconut oil and bake them on a cookie sheet for about 30 minutes, or until they are soft. For best results, use a tart cooking apple and line your pan with parchment for easy clean up.
For this recipe, we chose to use Elmhurst® Milked Hazelnuts™ to add a nuttiness and extra creamy texture to the fudge, without any need for dairy making them completely vegan-friendly. Hazelnut milk is the perfect plant-based milk for this recipe because it is rich and smooth, with a natural boost of antioxidants and Vitamin E from the hazelnuts (you can learn even more about hazelnut milk here). Milked Walnuts™ is another excellent choice for an extra layer of flavor, but almost any variety of plant milk would work great.
The milk you choose isn't the only way to customize these either. If you want to add apple pie spice, a mixture of cinnamon, cardamom, nutmeg, and allspice, a ¼ teaspoon will add just the right spiciness to the recipe. Alternatively, you can fold in a handful of chopped hazelnuts, top the fudge with your favorite vegan caramel, or pipe a little peanut butter on them.
These fudge cups are particularly great because you can make them ahead of time and store them in the freezer until you're ready to enjoy them, perfect for a busy day. They will keep for about 6 to 8 weeks, stored in a zip-top bag in your freezer. That is, if you can keep your hands off of them for that long!
These 5-ingredient fudge cups calls for Milked Hazelnuts™. A touch of hazelnut flavor blends well with maple syrup and cinnamon. Or, if you like a walnut flavor with your baked goods, try Milked Walnuts™! In fact, any of our plant milks work, so let us know what you try!
Ingredients
1 cup Apples, chopped
½ cup Coconut Oil, melted (+ a little extra to bake the apples in)
3 Tbsp. Maple Syrup
2 tsp. Cinnamon
Makes 12 cups, or 24 mini cups
Preparation
Preheat the oven to 400 degrees. While preheating, chop 1 cup of apples and toss in coconut oil. Spread the apples on a baking sheet, and bake for 45 minutes.
Once the apples have cooled, add them and the rest of ingredients to a blender. Blend until completely combined.
Pour the mixture into mini muffin pan and freeze for 30-35 minutes.
Remove from freezer and if desired, drizzle with peanut butter, caramel or other topping of choice.
We Want to See Your Tasty Creations
If you try this recipe, be sure to tag us on social media by using #ElmhurstRecipes on Instagram or @elmhurst1925 for a chance to be featured. If you want to try other similar delicious recipes, you can download a copy of our free Dessert Recipe E-Book here. Still need the milk to get started and not sure where to find Milked Hazelnuts near you? Check out our store locator or grab a pack on our website here and we'd be happy to deliver it to you!
Newest Recipes