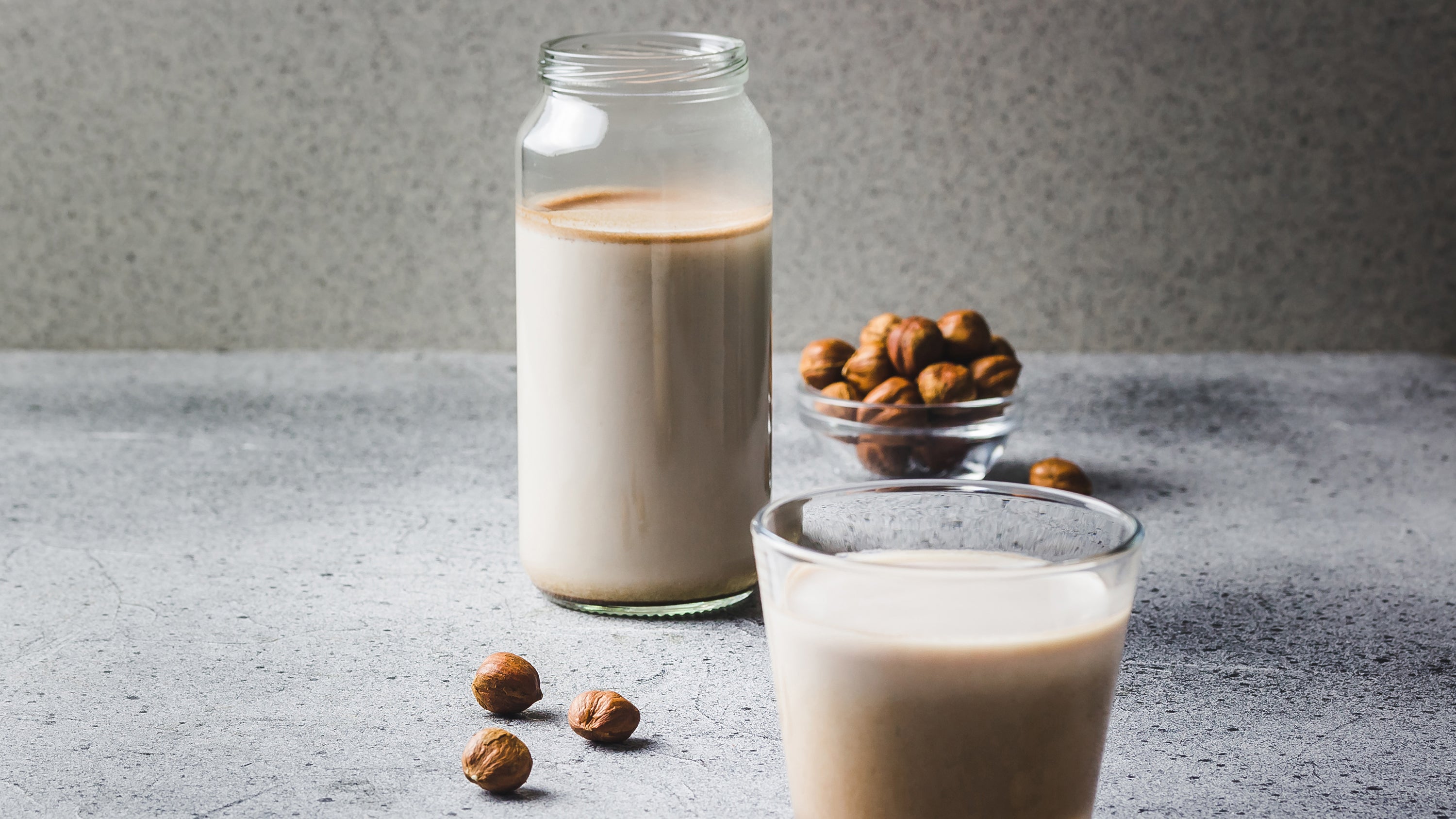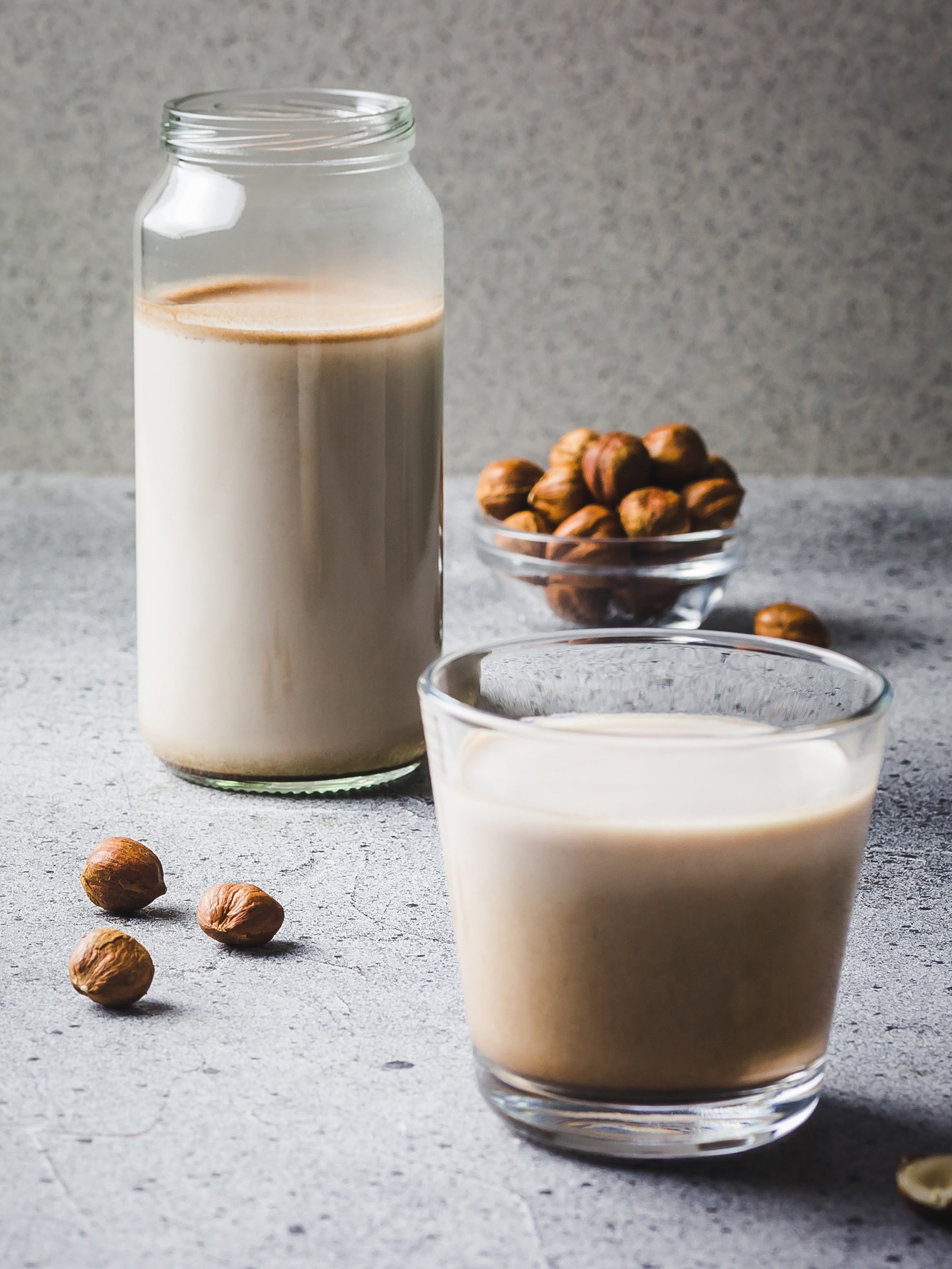 Among tree nuts, the hazelnut has perhaps the most indulgent profile. Most distinctively, the international phenomenon of Nutella might not have happened with, say, almonds (too neutral), cashews (too buttery) or walnuts (too oaky) – or, then again, you never know. While tasty, however, hazelnut spread isn't exactly the optimal way to reap the nutritional benefits of hazelnuts; at least no more than deluging a glass of dairy milk with a torrent of chocolate syrup in attempt to meet your daily protein needs.
Fortunately, if you're seeking the intersection of indulgence and nutrition, it's already right in front of you. Marry the best parts of hazelnut spread – the hazelnuts and cocoa – with the creaminess of chocolate milk and you hatch hazelnut milk! Here's a bit more about this star ingredient: 1 2
Hazelnuts are also commonly referred to as "filberts". Interestingly, the latter term is of French origin and is the technical name for the nut and trees that were planted in Oregon by French settlers; the former term is of English origin and refers to the native species. Usage of "hazelnut" was popularized by the Oregon Filbert Commission beginning in 1981.
In the United States, Oregon produces 99% of the country's hazelnuts.
Unlike other nuts, hazelnuts are rarely consumed as snacking nuts. Instead, they have historically been enjoyed more in sweets, including ground into hazelnut paste for Austrian tortes and hazelnut flour for Kiev cakes, or crushed and sprinkled on meringues for French Dacquoise cakes.
Production of the Nutella and Ferrero Rocher confections utilizes 25% of the world's yearly hazelnut supply.
Archaeologists have discovered hazelnut shells to be one of the most common organic materials from Neolithic sites.
Hazelnut Milk Nutrition Facts
The hazelnut milk market consists of two major players: Pacific and Elmhurst® 1925. It is perhaps appropriate that they take their names from geographic features on opposite sides of the continent (the world's largest ocean, and a neighborhood in Queens, NY). Their use of hazelnuts in a plant-based beverage is the only commonality between the two brands!
A word of advice while putting two dairy alternatives side-by-side: try not to be automatically deterred by fat and calorie counts. Antiquated dietary recommendations consider both to be injurious, but these times are changing (i.e., the health-promoting benefits from lower carbohydrate diets). 3 Today, the focus is more on nutrient density, getting the biggest bang for your buck – or calorie - in this case.
Comparing Pacific with Elmhurst,  Elmhurst's Unsweetened Milked Hazelnuts is made with up to 2x as many nuts per serving than Pacific's version. For Elmhurst, more calories and fat simply translate to more nuts, meaning better nutrition. Comparing the two per glass, Elmhurst's Hazelnut milk has more calories (90 vs. 30), more fat (9g v. 3g), and more protein (2g v. 1g). 
With regard to Pacific's unsweetened hazelnut beverage, there are only 30 calories per serving. How many hazelnuts is that exactly? Little more than a water emulsion, Pacific compensates by adding three gums and sunflower lecithin in order to fabricate a satisfyingly thick mouthfeel. Elmhurst's Unsweetened Milked Hazelnuts, by contrast, obtains its creaminess from 90 calories of just two ingredients: hazelnuts and water.
Hazelnut Milk Health Benefits
It is hard to definitively espouse the benefits of hazelnut milk because the current commercial offerings vary on multiple counts: different formulations, different manufacturing processes and ultimately different quantities of hazelnuts. So instead, let's examine the potential benefits of the hazelnut itself. Hazelnuts can:
Boost protection from cellular damage

The skin of hazelnuts has 3 times the total antioxidant capacity of walnuts, 7 times that of dark chocolate, 10 times that of espresso, and 25 times that of blackberries. 4

Help reduce risk of cardiovascular disease

In a study of 21 adults with hypercholesterolemia, consumption of a hazelnut-rich diet (comprising 18-20% of daily calorie intake) for 4 weeks significantly improved endothelial function, decreased triglycerides and LDL cholesterol, as well as increased HDL levels compared to participants eating a control diet. 7
A related study in healthy 21 adults consuming a diet high in hazelnuts for 4 weeks found it reduced the susceptibility of their LDL to oxidize and increased their number of beneficial large, fluffy LDL particles. 8
A systematic review and meta-analysis of 9 studies found hazelnut-enriched diets exerted beneficial effects on both LDL and total cholesterol levels. 9

Aid in improving blood sugar levels

In a 12-week investigation of 50 adults with metabolic syndrome, daily intake of 7.5g of hazelnuts led to impressive decreases in both fasting insulin and HOMA-insulin resistance, compared to those who did not consume any hazelnuts. 10
Is Hazelnut Milk Good for You?
Theoretically, yes: hazelnut milk should be good for you. If hazelnuts have benefits, so too must hazelnut milk, right? It really depends on how it is made. Elmhurst's HydroRelease™ method uses just water to separate hazelnuts' nutrients; then reassembles them into a creamy emulsion with no straining necessary! While comparable in texture to the dairy milk many of us are accustomed to drinking, this beverage is made entirely from plants. Elmhurst's hazelnut drinks are not only naturally lactose-free, hormone-free, but also devoid of gums, emulsifiers, oils and excessive amounts of sugar – genuinely health food!
Unsweetened Hazelnut Milk
Forgoing added sugar affords a certain satisfaction. Not only is it guilt-free, it allows you to taste the full, unadulterated flavor spectrum of the hazelnut. Consider a hazelnut milk made with two ingredients: hazelnuts and water. Yes, that is indeed hazelnut you are tasting. Elmhurst's Unsweetened Hazelnut Milk is imbued with smoky whispers and cocoa undertones. This makes it especially perfect for use in recipes, a few of which are suggested below!
Hazelnut Milk Recipes
Hazelnut milk has both sweet (particularly the original variety) and savory qualities, fit for a variety dishes and sweet treats any time of the day or occasion. Possibilities include hazelnut milk recipes with dates, coffee concoctions, and easy Vitamix solutions. Chef Tristan Hall offers a few favorites below.
Why Choose Elmhurst Hazelnut Milk?
We want to stress that few hazelnut beverages on supermarket shelves remain loyal to their namesake. Bottling what's grown on trees – in this case, hazelnuts' natural flavors and nutrients – is no easy feat, but thankfully through Elmhurst's HydroRelease™ method, we're able to do just that. Unsweetened Hazelnut Milk offers a sincere plant-based alternative, allowing the hazelnut's flavor profile and nutrient density to shine front and center. This is far superior to what any laboratory can achieve or concoct, and we want to render all glory back to the hazelnut itself. Elmhurst has simply found a way to capture and deliver the whole nut as you've never experienced before: in a glass.
References
Nutiva. Hazelnuts: 5 Facts About Filberts. 2019; https://www.nutiva.com/kitchen/hazelnuts-filbert-facts/. Accessed July 5, 2019, 2019.
Wikipedia. Hazelnut. 2019; https://en.wikipedia.org/wiki/Hazelnut. Accessed June 20, 2019, 2019.
Wylie-Rosett J, Aebersold K, Conlon B, Isasi CR, Ostrovsky NW. Health effects of low-carbohydrate diets: where should new research go? Current diabetes reports. 2013;13(2):271-278.
Calani L, Dall'Asta M, Derlindati E, Scazzina F, Bruni R, Del Rio D. Colonic metabolism of polyphenols from coffee, green tea, and hazelnut skins. Journal of clinical gastroenterology. 2012;46 Suppl:S95-99.
NutritionData S. Nuts, hazelnuts or filberts. 2018; https://nutritiondata.self.com/facts/nut-and-seed-products/3116/2. Accessed July 5, 2019, 2019.
Services USDoHH. Vitamin E: Fact Sheet for Health Professionals. 2018; https://ods.od.nih.gov/factsheets/VitaminE-HealthProfessional/. Accessed June 20, 2019, 2019.
Orem A, Yucesan FB, Orem C, et al. Hazelnut-enriched diet improves cardiovascular risk biomarkers beyond a lipid-lowering effect in hypercholesterolemic subjects. Journal of clinical lipidology. 2013;7(2):123-131.
Yucesan FB, Orem A, Kural BV, Orem C, Turan I. Hazelnut consumption decreases the susceptibility of LDL to oxidation, plasma oxidized LDL level and increases the ratio of large/small LDL in normolipidemic healthy subjects. Anadolu kardiyoloji dergisi : AKD = the Anatolian journal of cardiology. 2010;10(1):28-35.
Perna S, Giacosa A, Bonitta G, et al. Effects of Hazelnut Consumption on Blood Lipids and Body Weight: A Systematic Review and Bayesian Meta-Analysis. Nutrients. 2016;8(12):747.
Casas-Agustench P, Lopez-Uriarte P, Bullo M, Ros E, Cabre-Vila JJ, Salas-Salvado J. Effects of one serving of mixed nuts on serum lipids, insulin resistance and inflammatory markers in patients with the metabolic syndrome. Nutrition, metabolism, and cardiovascular diseases : NMCD. 2011;21(2):126-135.