How to Make Vegan and Gluten-Free Everything Bagels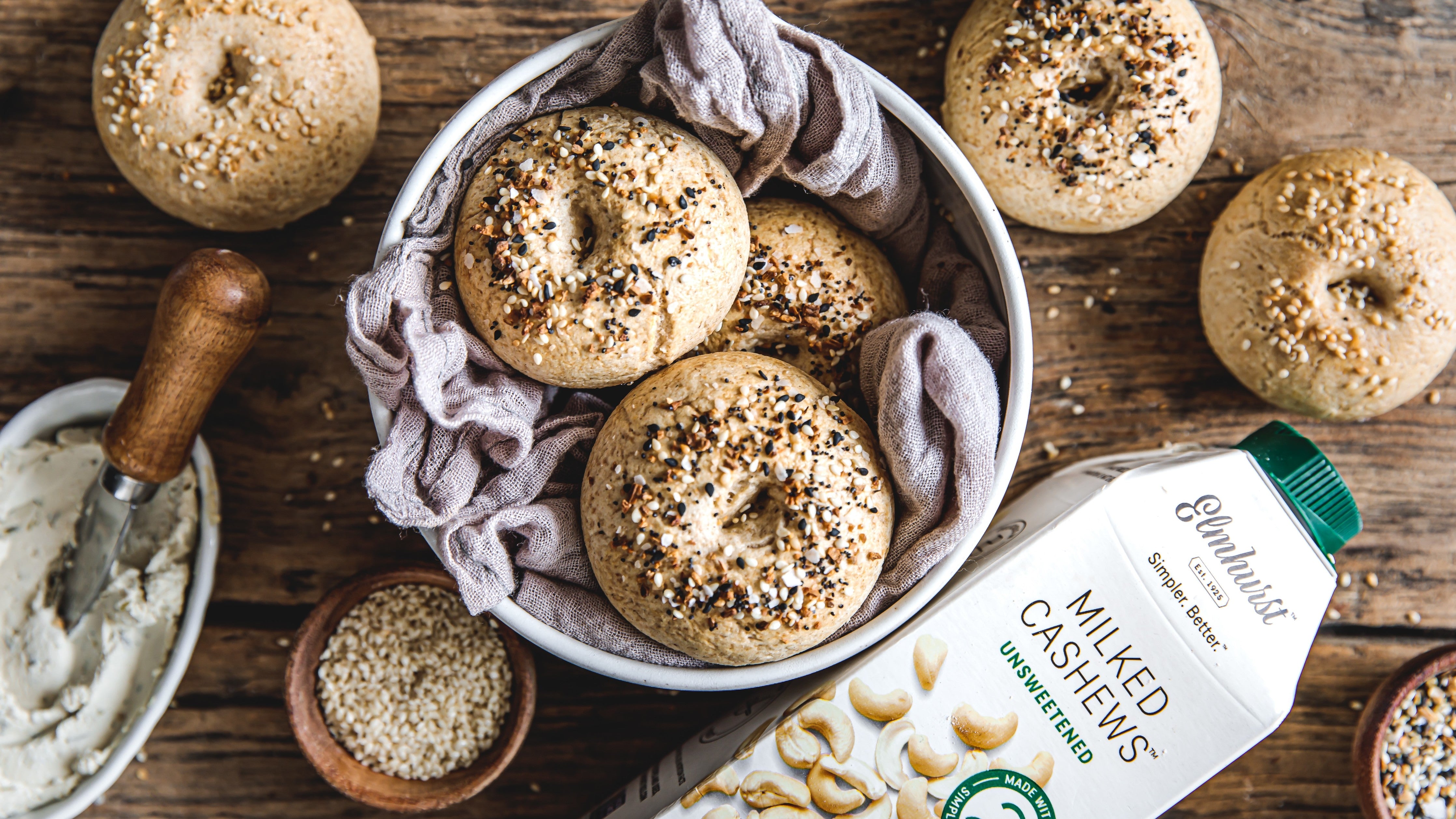 How to Make Vegan Everything Bagels with Cashew Milk
If you're looking for a gluten-free, dairy-free, and vegan-friendly alternative to traditional everything bagels, this vegan bagel recipe is for you.
Recipe Developed by Julia Koban-Trigo
@delight.fuel

Servings
: 6
Prep Time
: 20 minutes
Cook Time
: 30 minutes
Rising Time
: 1 hour
Ingredients:
• 1 ⅓ cup Elmhurst Unsweetened Milked Cashews
• 1 tbsp agave syrup
• 1 ¼ cups brown rice flour
• ½ cup gluten-free oat flour
• ¾ cup tapioca flour
• ½ cup corn starch
• 3 ½ tbsp whole psyllium husk
• 1 package active dry yeast (2 ¼ tsp)
• 2 ½ tsp salt
• 1 tbsp apple cider vinegar
• 1 ½ tsp baking powder
Toppings
:
• Olive oil
• Everything seasoning
• Sesame
• Poppy seeds
• Coarse salt


Instructions:
In a small saucepan heat cashew milk until warm.* Pour into a bowl. Add agave syrup and yeast. Mix and set aside for about 10 minutes until yeast activates and foams. If it doesn't get foamy, try a new package.
In the meantime add brown rice four, oat flour, tapioca flour, corn starch, whole psyllium husk, salt and baking powder into a large mixing bowl or stand mixer with a dough attachment. Add the yeast mixture and apple cider vinegar. Mix with a wooden spoon until dough comes together. Continue kneading with your hands until it forms a smooth ball. If it appears too dry to shape, add a bit of water.
Divide dough into 6 pieces and shape each into a ball. With your thumb create a whole in the center. Transfer onto a parchment paper lined baking sheet and cover with a dish towel. Let rest in a warm area for about 60 minutes.
Once the bagels are done rising, bring a medium sized pot of water to a boil and preheat the oven to 425F.
With a slotted spoon drop 2-3 bagels at a time into the water. Boil for about 30 seconds, then flip them and boil for another 30 seconds. Transfer back onto the baking sheet.
Brush with olive oil and sprinkle with either everything seasoning, sesame, coarse salt or poppy seeds. Bake on the middle rack for about 25-30 minutes until the bagels are golden brown.
Slice leftover bagels and store in an airtight zip block bag in the freezer. Toast to enjoy.
*Do not overheat
milk
or yeast will not activate. If the milk is too hot, wait until it cools down to around 110F.
Newest Recipes