How to Make a Dairy-Free Raspberry Muffin Smoothie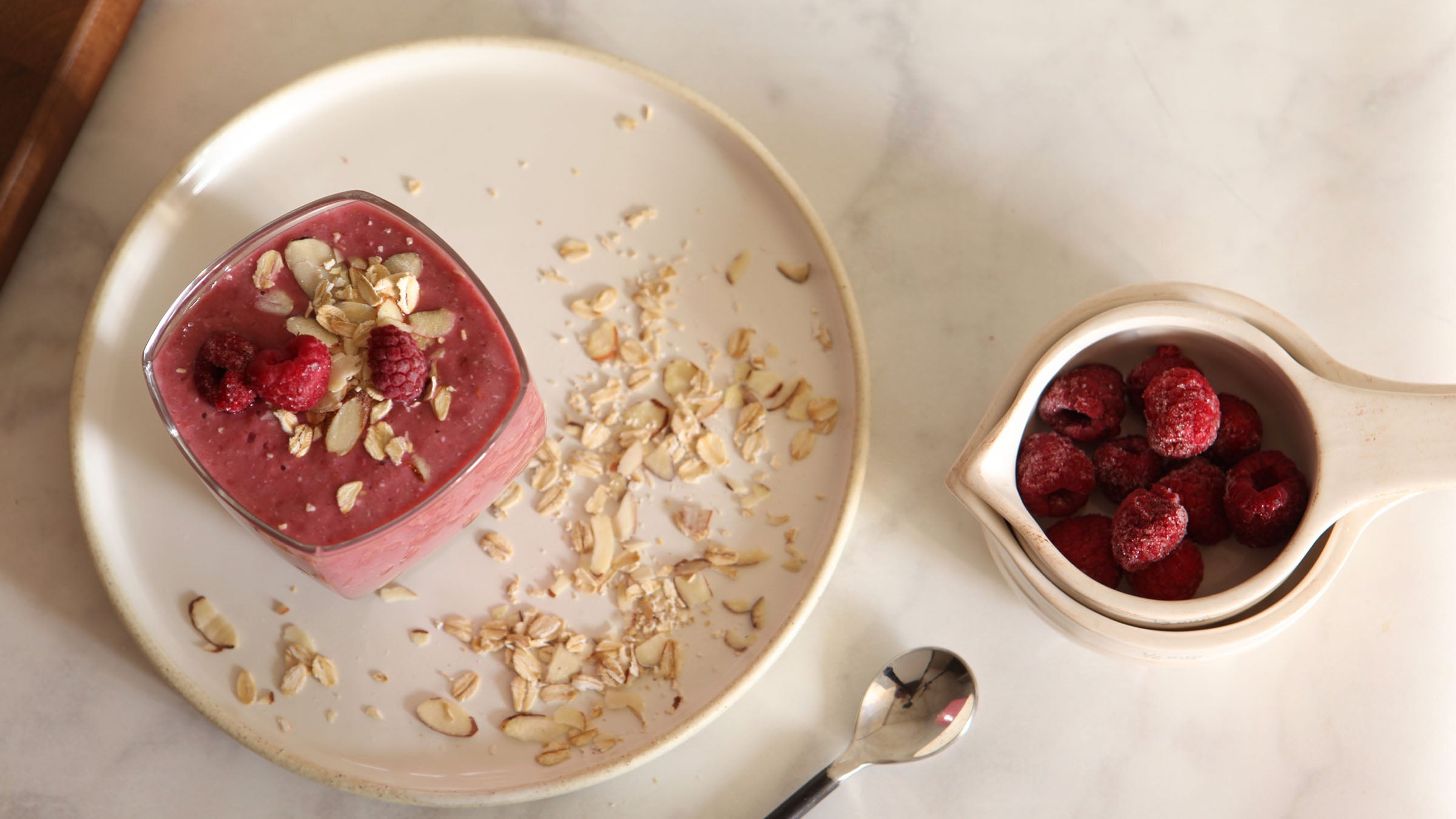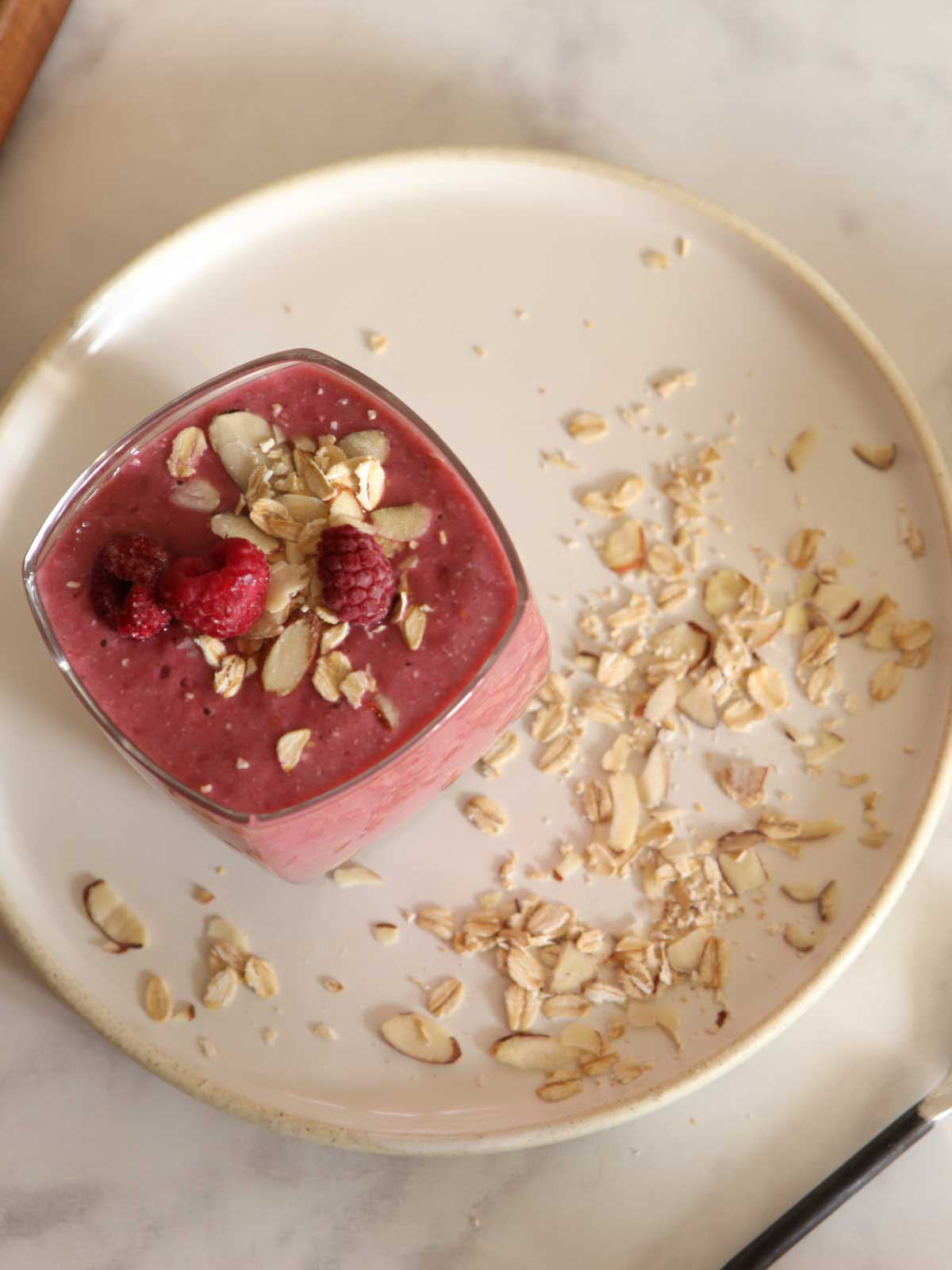 A good raspberry muffin can make a great breakfast or snack, but sometimes you just don't have the time to bake them up, or even to sit down and enjoy one. Taking the flavors and health benefits of the muffin and transforming them into a smoothie is a great way to still get to enjoy that experience when you're busy and on the go. If you're running low on ideas and wondering, "What smoothie can I make?", this flavor combination is sure to spice up your routine.
Are Smoothies Good for You?
Smoothies have been popular as snacks and meal replacements since the late 1980s, but not all smoothies offer the same benefits. That smoothie you ordered this morning could contain as much sugar and fat as a milkshake without you even knowing. Which is why homemade recipes are great because they give you control of what goes into them. Making a smoothie with healthy ingredients and little, to no added sugar is a great option to enjoy any day.
Don't get confused by the smoothie vs juice conundrum either. Juices are made by grinding or squeezing fruits and vegetables until they release their liquids and some pulp. In contrast, a smoothie contains the entire fruit blended up with liquid ingredients and other additions. Juices are also part of a healthy diet, but they don't combine the power of Milked Oats™ with fruit as our recipe does.
What are Smoothies Good For?
If you're wondering when to drink a smoothie, the right answer is whenever you like. Because you're able to pack so much goodness into one glass, smoothies are great for breakfast, rounding out a healthy lunch, or a post-workout snack when you need to refuel. They can even make great desserts because you get the sweet and fruity taste you're craving without the high sugar and fat you might find in things like ice cream or pastries.
With the right combination of ingredients, you can really cater your smoothie to your needs. They're also an easy way to incorporate extra fruit, vegetables, or even grains that you might not normally eat on their own.
How to Make a Raspberry Muffin Smoothie
Still wondering how you can take a baked good like a muffin and turn it into a drink? Our recipe is based around the flavors of a freshly baked muffin transformed into a thick and tasty smoothie. To get that muffin flavor we paired Elmhurst® Milked Oats™ with rolled oats, then tossed in the raspberries for the fruity twist.
Why not just buy a muffin? Store-bought raspberry muffins are nice because they save you the time, but are often packed with sugar, fat, and refined carbohydrates. Since we're relying on real oats to give this smoothie body and flavor, you're getting the fiber and protein that is usually missing from your average store-bought muffin.
Raspberries are a great addition to your diet because they pack an amazing 8 grams of fiber into each cup of fruit. You'll also get 1.5 grams of protein from the fruit alone, plus only 5 grams of naturally occurring sugar. They're high in antioxidants and provide nearly half of your daily recommended intake of Vitamin C per cup.
Rolled oats are another great way to add even more whole grain into the mix and can help keep you feeling full and focused longer. A quick tip – you can either add the oats as is, or for an even creamier smoothie, try soaking them in oat milk for an hour or two to soften them up.
Oat milk is the ideal plant milk for this recipe. It has all the flavor of a freshly baked muffin, adds a boost of valuable whole grains, and 4 grams of protein per serving. Want to learn more about oats and just what makes them so great? We've put together a handy guide where we talk All About Oat Milk here. This recipe calls for our Original Milked Oats, but you can also swap in our Unsweetened Milked Oats to reduce the sugar content of your smoothie.
Once you have your ingredients gathered, all you'll need to do is add them to your blender and you'll have a fruity and delicious smoothie in no time. But before you load everything in, we've got a few helpful tips to ensure your smoothie is a great one.
Tips for a Better Smoothie
How to load your blender

Loading your blender right is the key to a thick and fully blended smoothie. Always start with your liquids first. Dry ingredients like the oats in this recipe, protein powder and other grains go next. Leafy greens and other loose and large ingredients are up next after the dry ingredients, followed by soft add-ins like yogurt and nut butters. Fresh produce is second to last, while anything frozen goes on the very top to push everything down.

Check out the infographic below these tips to see how your smoothie should stack up

Choosing the right ingredients

Fresh, quality ingredients are essential for a tasty and healthy smoothie. Has that canister of rolled oats been in your pantry for a while? Consider swapping it out for a new one since they can go stale in a matter of months and lose their flavor. Make sure you're also using real vanilla extract and not imitation since the flavor really stands out in this recipe.

How to make a smoothie with frozen fruit

Using frozen fruit is great because there's no need to add ice. While ice cubes thicken and chill the smoothie, they also melt quickly – watering down the flavor and thinning it out. Frozen fruit melts slower and as it melts, it still holds on to that flavor and most of the thickness.

Have extra fresh fruit? Try freezing your own by cutting the bananas into small pieces and freezing them with the raspberries spread out on a baking sheet. Store your frozen fruit in an air-tight container to prevent freezer burn and nutrient loss.

Can you store a smoothie in the freezer or fridge?

If you have an air-tight container you can fill to the very top, your smoothie will happily stay good in the refrigerator for a full day. Freezing a smoothie allows you to store it for weeks or months, but it won't maintain the same texture if you freeze it solid and then just let it melt.

Try pouring your leftovers into ice cube trays and storing the cubes. When you're ready blend the cubes up with a half cup of oat milk. This will restore the original texture without changing the flavor much at all.
Ingredients
1 ½ cups Elmhurst® Milked Oats™
½ cup Old Fashioned Oats
1 tsp. Cinnamon
1 Tbsp. Vanilla Extract
1 cup Raspberries, frozen
1 cup Banana, sliced & frozen
Optional: Sweeten to taste with Maple Syrup
Servings:
2
Preparation
Add all ingredients to a blender starting with the oat milk and finishing with the frozen fruit. This will help everything come together better.
Blend until combined. This may take a little extra blending to fully combine the oats.
Top with whatever you'd like. To recreate the crispy top of a muffin try adding granola, sliced almonds, and a few extra raspberries.
Share Your Smoothies with Us on Social Media
We'd love to see how your raspberry muffin smoothies turn out or how you make them your own! Be sure to tag us at @elmhurst1925 when you upload your photos so we can share them with the rest of our #1925ers. If you're running low on milked oats, pick up a pack by ordering through our website and we'll have you stocked up in no time!
Newest Recipes