How to Make Cheesy Vegan Cauliflower Soup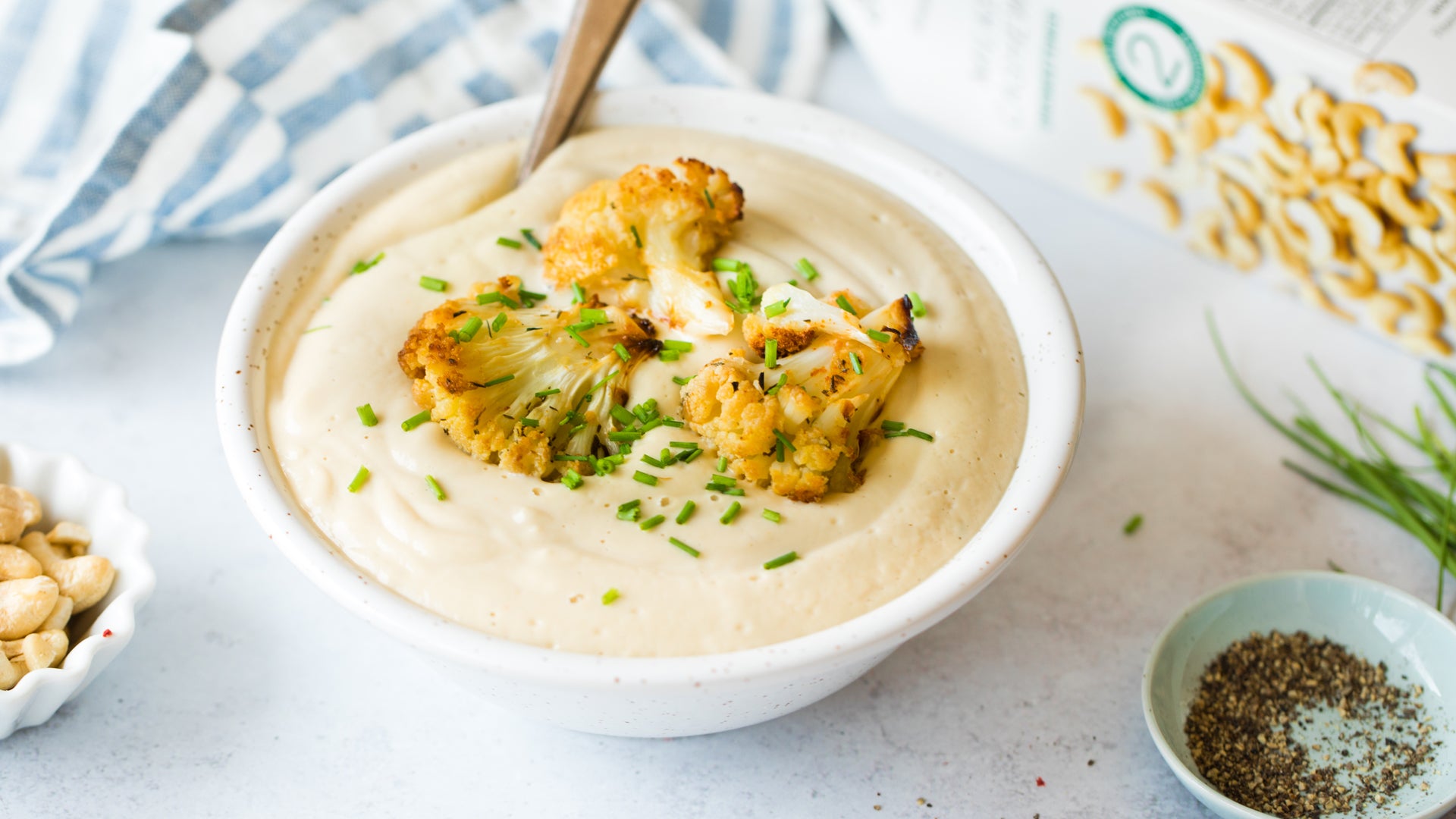 Looking for an extra creamy soup recipe? Here's a vegan cauliflower soup made with roasted vegetables – cauliflower, red onion, and garlic cloves – and raw cashews, vegetable stock, and unsweetened cashew milk for the base.
Serve the soup topped with remaining roasted cauliflower and chopped chives and share it with us on
Instagram
!
Serves:
4
Recipe Creation by @anettvelsberg


Ingredients:
For the roasted vegetables:


• 1 med head Cauliflower, cut
• 1 med Red Onion, chopped
• 3 Garlic Cloves, peeled + chopped
• 1 tsp Dried Thyme
• 1 tsp Paprika
• 1 Tbsp Avocado Oil
• 1 tsp Sea Salt
For the soup base:


• ½ cup Raw Cashews, soaked in hot water for 1 hour
• ½ cup Nutritional Yeast
• 3 cups Vegetable Stock
• 1 Tbsp Lemon Juice
Instructions:
Start by preheating your oven to 425F.
Place the cauliflower, red onion, garlic, thyme, paprika, sea salt and avocado oil in a baking tray. Mix well, then place in the oven for 40-50 minutes until cooked through and slightly charred. Remove from the oven and reserve 1 cup as garnish.
Place the roasted vegetables in a blender and add the soaked cashews, nutritional yeast, vegetable stock and cashew milk. Blend until smooth.
Pour the soup into a medium-sized pot and bring to a simmer. Cook for 5 minutes, then add the black pepper, salt, lemon juice and remove from heat.
Serve topped with remaining roasted cauliflower and chopped chives.
Newest Recipes