How to Make a Simple Dairy-Free Strawberry Smoothie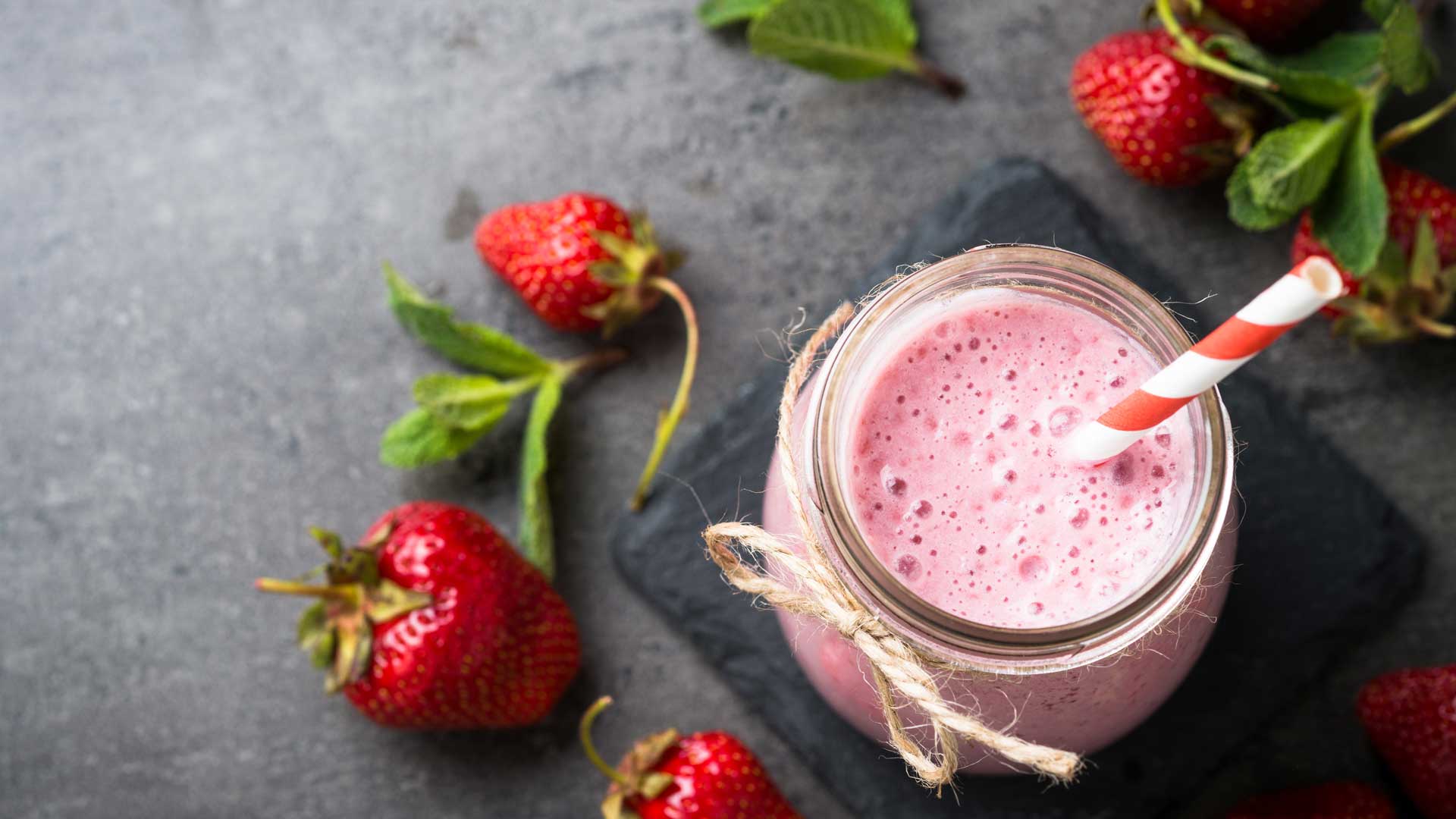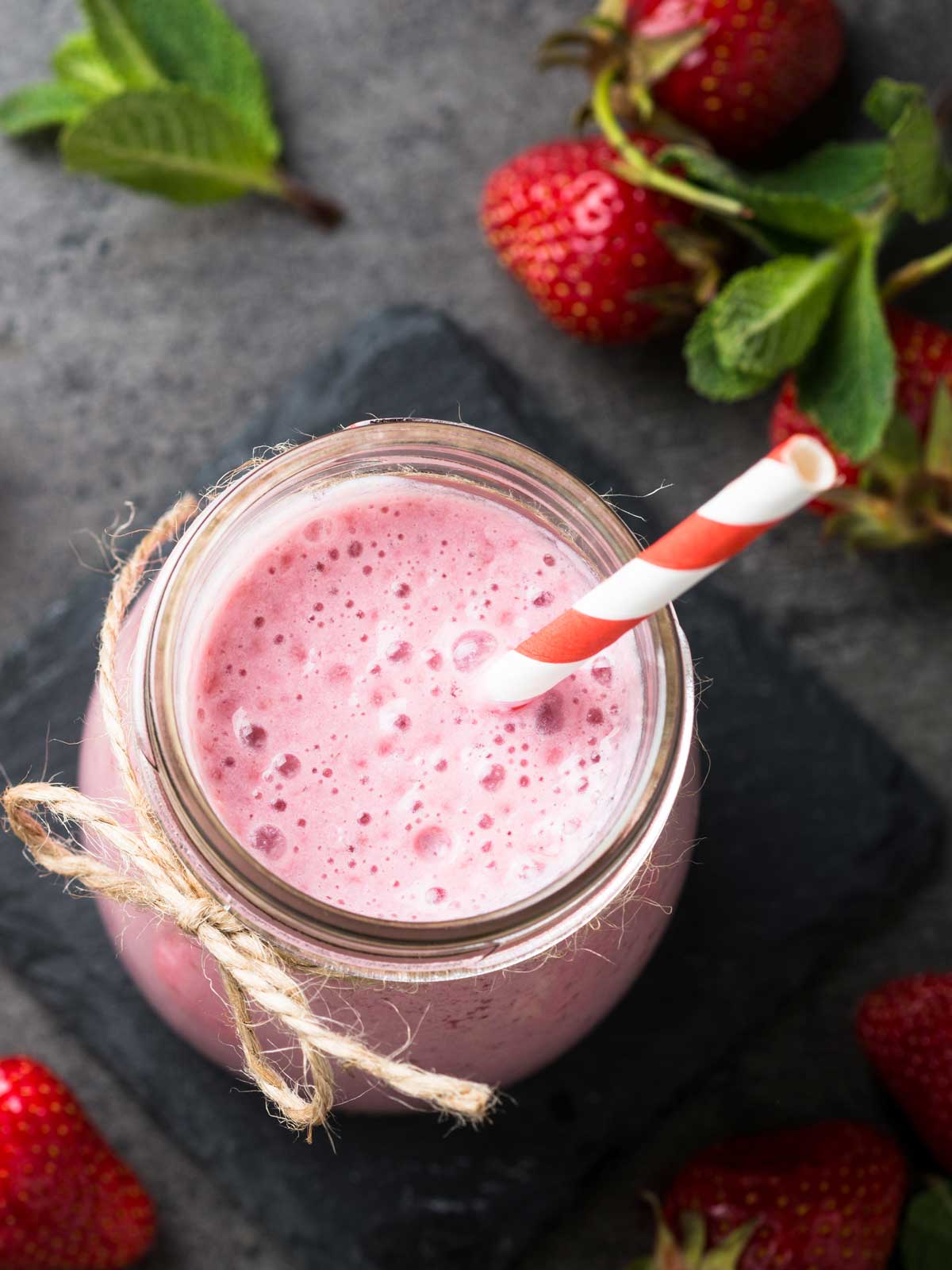 Preparation
Add all ingredients to a blender starting with the unsweetened almond milk and finishing with the frozen fruit. This will help everything come together better.
Blend until combined.
Smoothies have a reputation for offering a lot of nutrition packed into an easy-to-drink format. However, many smoothie recipes you'll find today are packed with sugar and low on vitamins and nutrients. Don't forget about how high the fat content can climb when you're combining dairy products, nut butters, and more. If you're left wondering "What smoothie can I make?", don't worry. There are plenty of options for making a healthy smoothie that starts your day off on the right foot. This banana-free, dairy-free Strawberry Smoothie is low in added sugars, has a healthy fat profile, and is easy to make - no matter how busy you are in the morning.
Are Smoothies Good for You?
By choosing high protein, low fat, low sugar recipes for your smoothies, you can improve your diet while enjoying the creamy sip of a frozen drink. Smoothies are great for quick breakfasts when there's no time to sit at the table with the family. They're also great for a quick pick-me-up after a hard workout, or to satisfy your dessert cravings without turning to ice cream or cake.
While many smoothies are high in sugar, it all depends on what ingredients you use. A little sugar in moderation fits into a healthy diet just fine, especially if it's primarily from naturally occurring sugars rather than refined added varieties. By adding more unsweetened and sugar-free ingredients like Unsweetened Milked Almonds™ to your smoothie recipes, you can balance out how much sugar you're consuming in each smoothie to help it fit into any diet plan. Almond milk is one of the most nutritional liquids to use for your smoothies, and unsweetened almond milk is even better to keep the sugar content low.
How to Make a Simple Strawberry Smoothie
A healthy smoothie will provide protein, fiber, and a wide range of vitamins and nutrients in each cup. By making your own smoothie at home, you can control the ingredients to avoid allergens and limit the added sugar. There's no need to make large portions either, when you can blend up just a few ounces at a time if you like.
Many smoothies rely on bananas as a base to add sweetness and thickness. However, some people are allergic to bananas, dislike their flavor, or don't want all the sugar they add to a recipe. This recipe relies on cauliflower instead to achieve that thickness you're looking for with very little sugar and a better nutritional profile. If you're interested in other swaps to improve the nutrition of your favorite smoothie recipe, consider:
Swapping Elmhurst® Unsweetened Milked Almonds™ or one of our other dairy free, plant milk options in place of dairy products like milk and yogurt
Replacing the strawberries with any of your other favorite frozen fruits, including raspberries, mango, pineapple, or sweet cherries
Dropping the banana from your favorite recipe and swapping it for frozen cauliflower, avocado or canned pears packed in water or juice if sugar is not the problem
Adding in other mild-flavored vegetables like cooked sweet potato, frozen cut zucchini, fresh or frozen carrots, cooked beetroot, and of course the ever-present leafy greens like spinach and kale
Strawberries are an ideal fruit to use as the primary flavor for a tasty smoothie. You can make a smoothie with frozen fruit without giving up its nutritional value. These sweet red fruits are high in manganese and Vitamin C and low in calories. You'll also get a boost of folate and potassium by tossing strawberries into the mix. With 2 grams of fiber and only a third of a gram of fat per 3.5 oz serving, you'll feel full longer than after eating less fibrous fruits.
Cauliflower is a nutritional powerhouse too. It's even higher in Vitamin C than the strawberries. You'll get 77% of your daily recommended allowance in each cup of the vegetable, so even a small amount of it is great for your immune system. It's also one of the best dietary sources of Vitamin K. With 3 grams of fiber per cup, the combination of strawberries and cauliflower will create a filling smoothie that supports a healthy microbiome in your digestive system.
As you can see on the recipe card below, there's no ice added to this recipe. With the use of both frozen strawberries and cauliflower, you get plenty of chill and thickness from those ingredients alone. This means you don't have to drink the smoothie so quickly or worry about the flavor getting watered down as the ice melts.
We chose unsweetened almond milk for this recipe because almond milk offers many nutritional benefits on its own. Like most plant-based milks, almond milk contains only a fraction of the carbs found in traditional dairy milk. One cup of our unsweetened almond milk only contains 3 grams of carbs, while you'll find 12 grams of carbs in 1% dairy milk. You'll get 5 grams of protein from each 8-ounce serving and only a single gram of saturated fat. Don't forget about its great almond flavor as well! If you'd like to learn more about almond milk and our other plant based varieties, check out this post where we talk All About Almond Milk. If you're looking for a touch of extra sweetness in your smoothies, our original line of plant milks also work great.
Tips for a Better Smoothie
Loading your ingredients in the correct order is essential to both protecting your blender from damage and creating a smooth and thick mix. Start with the liquid ingredients, then add any dry additions like powders, spices, and grains. Follow that up with loose and fluffy ingredients like leafy greens, then soft ingredients like yogurt and nut butters. Fresh fruits and vegetables go next, topped by frozen fruits and vegetables and ice. Print this infographic and keep it on your refrigerator to remind you or pin it to save it for later.
If you're not familiar with how to make a smoothie with frozen fruit, just make sure your frozen ingredients are added last so they're farthest away from the blades. If you're using at least 2 cups of other frozen ingredients, you can skip the ice unless you like your smoothies soft-serve thick. If you're using fresh ingredients instead, add three ice cubes for every cup of frozen fruits or vegetables you're replacing.
Relying on frozen fruits and veggies instead of ice creates a smoothie that doesn't lose flavor or texture when stored in the refrigerator for later. If you're not going to drink the smoothie that same day or plan to use ice, try storing it in the freezer instead. Let the frozen smoothie sit out on the counter for 30 minutes to an hour, and when it's partially melted, run it through the blender again to restore its original texture.
Show Us Your Simple Strawberry Smoothies
Ready to give this healthy recipe a try? Tag us on social media @elmhurst1925 or use #ElmhurstRecipes so we can see and share your great results. Need the unsweetened almond milk to get started? You can find it on our website for convenient ordering.
 
Newest Recipes