Keto friendly
Paleo friendly
Gluten-free
Unsweetened Almond Milk
UNSWEETENED PLANT MILK - 32oz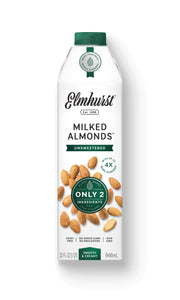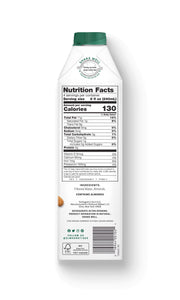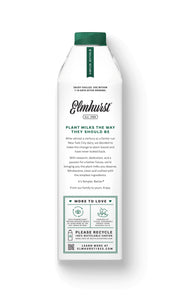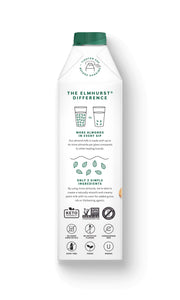 Superior Plant-Based Nutrition


THE HYDRORELEASE METHOD™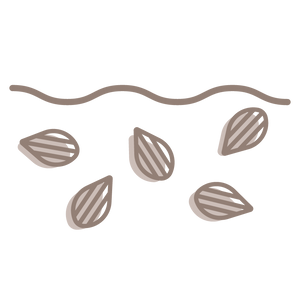 PRESERVES THE
NUTRITIONAL INTEGRITY
Using just water, The HydroRelease® Method preserves the integrity of fats, proteins and fibers from the source ingredient. No chemicals. No over-processing.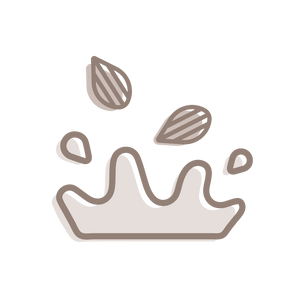 CREAMY TEXTURE,
SIMPLE INGREDIENTS
The nutritional components are recombined to create a thick, creamy full-flavored beverage without added gums, fillers or preservatives. The ingredient list couldn't be simpler.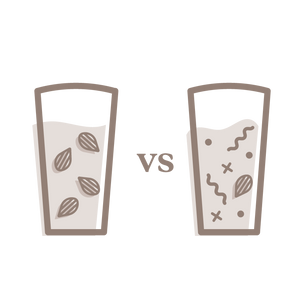 UNMATCHED
NUTRIENT DENSITY
With more of the nutrition preserved, Elmhurst® products are more concentrated with bioavailable nutrition - making them easier for your body to digest and absorb.
"Not only is this product simple and healthy with nothing added... it's DELICIOUS"

STEPH T.
"Love your products. Thanks for keeping ingredients simple!"

SUSAN W.
"The only almond milk I'll use in my smoothies."

MEGAN R.
"The best nut milk in the game!"

SARAH G.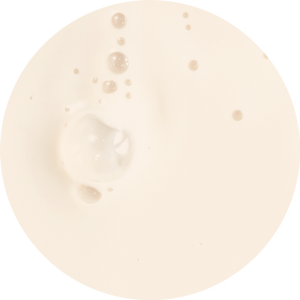 DAIRY
FREE
100% plant-based
made with real,
raw ingredients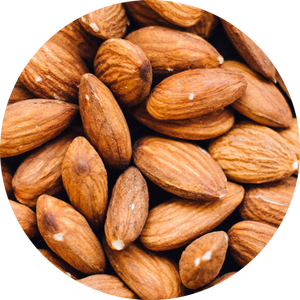 NUTRITIONALLY
DENSE
Up to 4x more nuts
per serving than
leading brands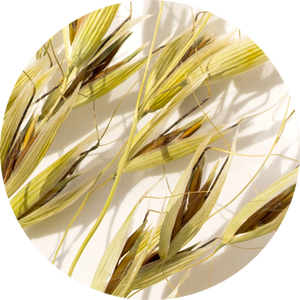 SIMPLE
INGREDIENTS
No gums, fillers,
emulsifiers, or anything
unnecessary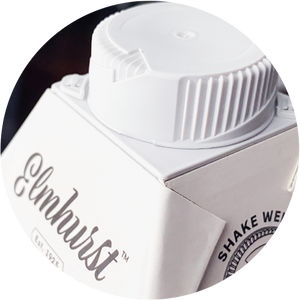 NO
PRESERVATIVES
Our pantry-friendly cartons don't need to be refrigerated until opened.
Customer Reviews
Write a Review
Ask a Question
Filter Reviews:
ingredients
almonds
milk
market
taste
fillers
coffee
lifesaver
carton
everyone
02/13/2023
Brandon

United States
The only place I get my plant milk from!
You would think it's not too much to ask to have a milk on the market without sugars, gums, and fillers. However most milks and dairy free milks is filled with them. Thankfully Elmhurst saved us from those with their beautifully crafted lines of milks and creamers. I will never go back to any other plant milk, I am a forever customer!
01/06/2023
TWard

United States
Great taste
I love that it only has 2 ingredients most natural state only drawback is it separates easily especially in warm beverage like coffee. I've made cashew milk and it does the same so I guess to be expected but I will buy again.
Thanks so much for the feedback and we understand- keeping things as simple as we do means that some of our plant milks will naturally hold up better in coffee. If you're looking for another option, we'd recommend trying our Unsweetened Milked Cashews or we also have a full line of Creamers & Barista Editions specifically made for coffee. We hope you enjoy!
10/22/2022
Daphne O.

United States
The Best
I'm totally addicted to this almond milk; without a doubt it's the best on the market. I love that there are no other ingredients other than almonds and water. I love the taste on my oatmeal or muesli for breakfast. Wish it were more available in regular grocery stores.
09/04/2022
Morris

Panama
Finally!
Good product. Many dairy milk alternatives contain unwanted ingredients (vegetable oils, etc.). This almond milk is unadulterated and perfect if only it were to use ORGANIC almonds (vs. non-GMO) due to the pesticide concerns. Rating 5/5 stars because it is the best amongst its peers, but 4/5 stars considering the organic vs. non-GMO consideration. I will buy again.
08/24/2022
Annie C.

United States
Number 1 unsweet almond milk
I been used this over 2 years every morning.The best unsweetened almond milk.I love it.I switched from Malk to this brand .
What plant milk is best for you?
ELMHURST
UNSWEETENED MILKS
ALMOND
MILK
CASHEW
MILK
OAT
MILK
WALNUT
MILK
HAZELNUT
MILK
PROTEIN*
5g
4g
4g
3g
2g
CALORIES*
130
130
80
120
90
TOTAL FAT*
11g
10g
1.5g
11g
9g
CARBS*
3g
7g
14g
1g
1g
SUGAR*
1g
1g
1g
0g
1g
ADDED SUGAR*
0g
0g
0g
0g
0g
SODIUM*
5mg
10mg
120mg
5mg
5mg
KETO-FRIENDLY
✓
✓
✓
PELO-FRIENDLY
✓
✓
✓
✓
GLUTEN-FREE
✓
✓
✓
✓
✓
WHOLE30
✓
✓
✓
✓
Daily values are based on a 2,000 calorie diet.
SHOP NOW
SHOP NOW
SHOP NOW
SHOP NOW
SHOP NOW