How to Make Vegan No-Bake Lavender Lemon Bars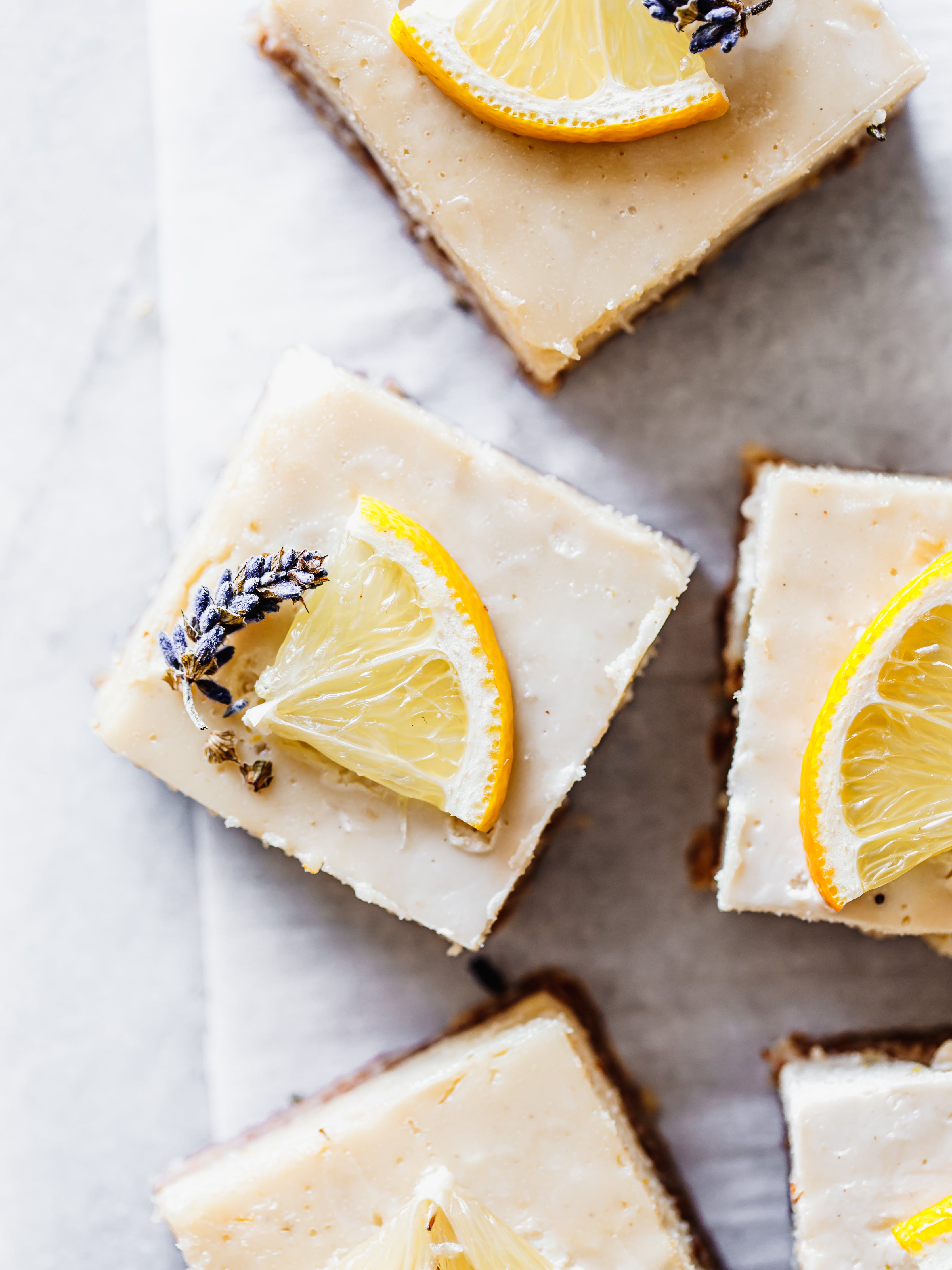 Lavender Lemon Bars are the perfect refreshing summer treat. Click here to learn how to make both the crust and dairy-free creme filling. No baking required for this dairy-free dessert recipe.
Ingredients:
Base / Crust
:
• 5 Medjool Dates, pitted
• ½ Cup Shredded Coconut
• 1 Tbsp Maple Syrup
• 1 Tbsp Coconut Oil (softened, not melted)
• 2 Cups Raw Almonds (sub with any other nuts)
Lemon Lavender Creme
:
• 1 Cup Elmhurst Unsweetened Cashew Milk
• 1 Can Coconut Cream
• 2 Cups Soaked Cashews
• ⅓ Cup + 2 Tbsp Coconut Oil
• 1 ½ Lemons (zest and juice)
• ⅓ Cup Maple Syrup
• 1 ½ Tbsp Lavender Buds
Instructions:
For the base, line a 8x8 inch square baking pan with parchment paper, plastic wrap, or wax paper.
In a food processor add almonds, dates, coconut, maple syrup and coconut oil. Process until it's slightly crumbly but still sticks together.
Press the base mix on the bottom of the pan evenly and set aside.
In a small saucepan heat cashew milk over medium-low. Stir in lavender buds, let steep for about 10 minutes and strain. Cool for 5-10 minutes.
Add all creme ingredients to a blender and process until completely smooth. This may take a few minutes.
Pour over base, cover with plastic wrap and refrigerate for about 3-4 hours or overnight.
Once it has set, take out of the fridge, cut into 9 large or 16 small squares and enjoy! Store leftovers in the refrigerator for up to two days.
Servings
: 16
Cook Time
: 10 min
Prep Time
: 20 min
Additional Time
: Up to 8 hours
Total Time:
Up to 8 hours 30 min
Newest Recipes