How to Make The Best Vegan Chocolate Chip Cookies, Ever.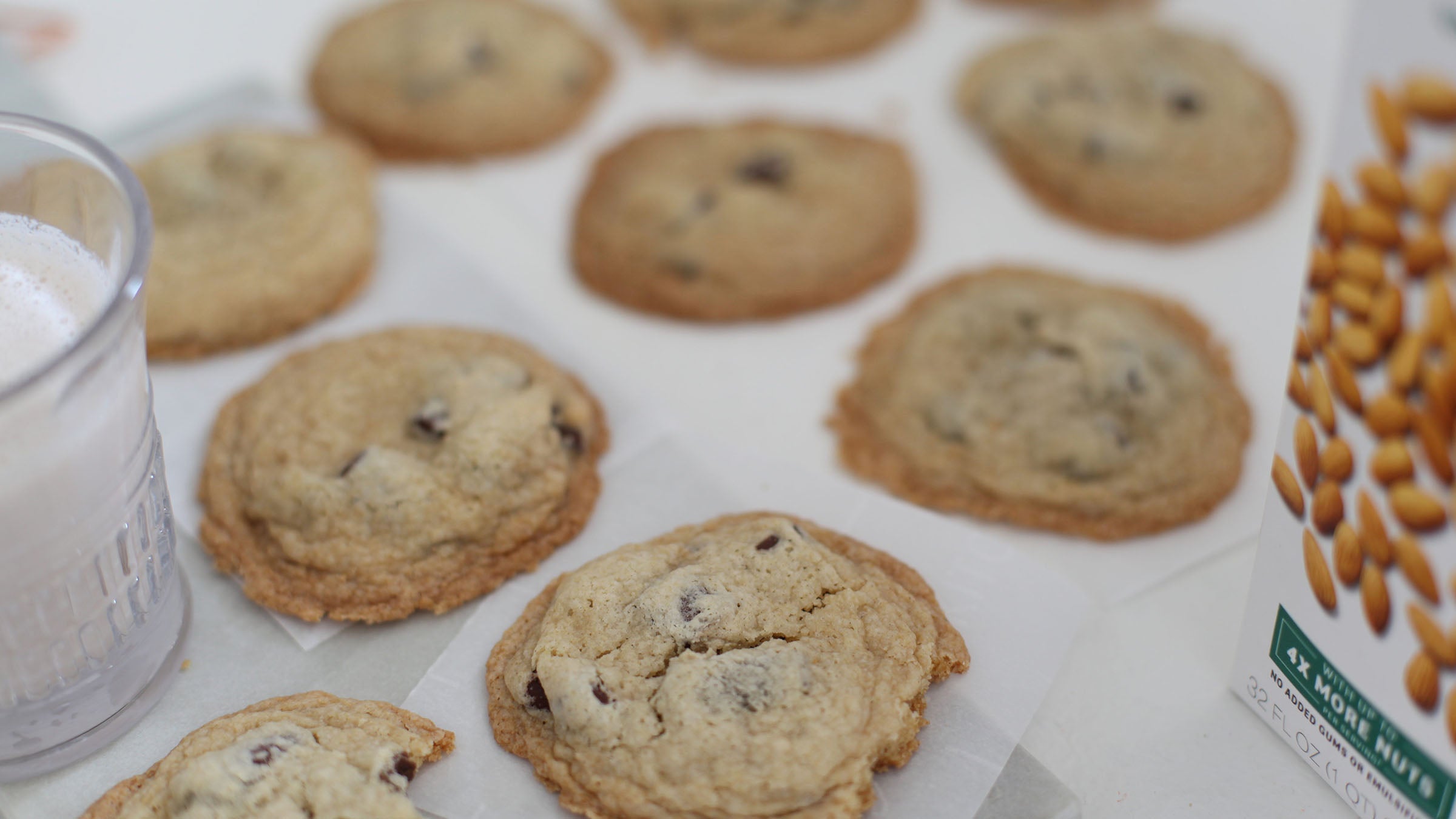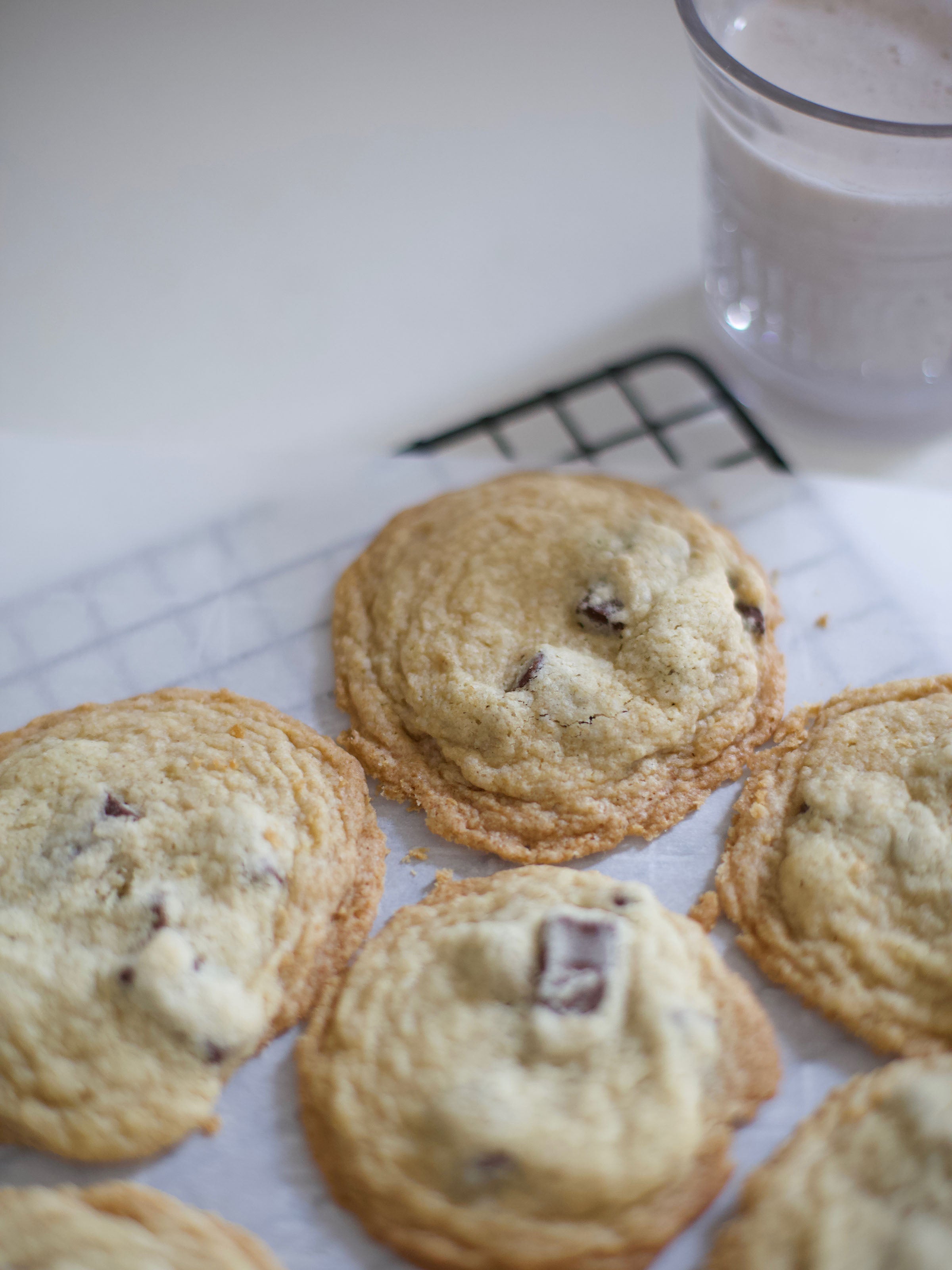 Homemade chocolate chip cookies are one of the ultimate comfort foods. The perfectly soft and chewy cookie, the melty chocolate chips, and the sweet familiar flavor makes everyone nostalgic for their childhood. People love them so much there's even a holiday to celebrate them (it's August 4th in case you were wondering). But ever since the first chocolate chip cookie appeared decades ago, it had been long assumed that a vegan version could not be achieved. Not anymore! We've got the vegan recipe you need to make classic homemade chocolate chip cookies, not to mention the plant milk to dip them in.
Are Chocolate Chip Cookies Vegan?
Said to be invented by Ruth Graves Wakefield in 1938 for her Toll House Inn, the traditional Toll House chocolate chip cookie is definitely not vegan. The recipe is based around butter and eggs. Thankfully today's vegan butter options offer the same texture and spread when baked and can easily be swapped in. In this recipe, you'll also find Elmhurst® Unsweetened Milked Almonds™ acts as the binder in place of eggs. That way you can make this recipe with what you have on hand, instead of having to deal with flaxseed powders or the other ingredients commonly used to replace them.
By choosing a vegan cookie recipe, you can easily share these tasty treats will all your friends!
How to Make a Perfect Batch of Vegan Chocolate Chip Cookies
Everyone has their own idea of the 'perfect' chocolate chip cookie. For some it's soft and gooey, for others thin and crispy. Our perfect cookie? Just the right combination soft and chewy, with those perfect crispy edges.
What's great about this recipe, is that it can easily be adjusted to suit your cookie preferences or dietary needs. If you're gluten-free, simply swap in your favorite GF flour for baking and follow the recommendations on the package for the right conversion. And if you love eating cookie dough more than the finished cookies, swap in a nut-based flour and you're good to go since there's no raw egg in this recipe. Raw wheat flour shouldn't be consumed because it can contain E. coli bacteria, but most nut flours are safe to eat raw.
Want to take your new vegan chocolate cookie recipe to the next level? Consider tossing in one or two the following fun add-ins for the next batch.
Crushed caramel, cinnamon, or peppermint hard candies
Dried fruits like cranberries, cherries, and freeze-dried strawberries
Different flavors of chocolate and chopped pieces from a bar rather than formed chips/li>
Lemon and orange zest chopped fine
Nuts like pistachios, cashews, pecans, peanuts, and almonds
Candied ginger, culinary grade lavender buds, and dried herbs and spices
We chose unsweetened almond milk for this recipe, but you can also use any of our unsweetened plant milks and get the same great results. When your cookies are done and you're ready to dip and dunk them, that same unsweetened almond milk you used in the recipe makes for the perfect pairing. Our unsweetened hazelnut milk and unsweetened oat milk also have great flavors when combined with the buttery vanilla notes of the cookie.
Tips for Making the Perfect Chocolate Chip Cookies
Still dialing in your cookies to get them just how you like them? We know that achieving the perfect chocolate chip cookie is both a science and an art. Here are a few tips:
Why are my cookies flat?
Cookies that spread too much and go flat during baking likely have too much butter and/or liquid and too little flour. Reduce the liquid you add slightly or add two extra tablespoons of flour and try again. Refrigerating the dough for an hour, or even overnight, also helps prevent flat cookies.
Why are my cookies puffy?
Puffy, cakey cookies are the ideal for some people. But if you prefer a firmer cookie, you may need to reduce the flour and double check your measurements. Instead of scooping your measuring cups into the bag or pouring flour into them, use a spoon to gently transfer the flour into the cup. Measure your baking powder carefully as well and avoid beating too much air into the butter and sugar mixture.
How do I make thick chocolate chip cookies?
Scoop your dough balls and only press them slightly to keep them thick as they bake. Follow the tips for preventing flat cookies as well to ensure they don't spread too much and lose their height. You can also preheat the oven to 325 degrees and only turn it up to 350 when you put the pan in so the cookies start cooking at a slightly lower temperature to control spreading.
How do I get a chewier cookie?
Swap the white sugar in the recipe for brown sugar. This adds and retains a little extra moisture in the baking process, making for a softer and chewier cookie. Using vegan shortening products instead of butter can also increase the moisture.
How do I get a softer cookie?
Thorough creaming of the butter and sugar and minimal mixing of the dough is essential to keeping a soft texture. Watch out for overcooking as well. The cookies should just be starting to brown around the edges and should still be soft to the touch when they come out of the oven. If you wait until they're fully browned and firm, they'll be hard by the time they cool off.
How do I get a crisper cookie?
Thin and crispy cookies are easy to achieve by reversing the above recommendations. Increase the vegan butter by 2 tablespoons or reduce the flour by a quarter cup, but not both. Make sure the oven is at 350F and let them cook slightly longer than usual until the edges are all evenly browned. Be sure to start with a smaller scoop of dough per cookie since these changes will cause a lot of spreading on the pan.
Ingredients
1 cup Vegan Butter
½ cup Brown Sugar
½ cup Sugar
1 tsp. Vanilla Extract
2 ¼ cups All-purpose Flour*
½ tsp. Salt
1 tsp. Baking Soda
1 ½ cups Vegan Chocolate Chips
*You can also substitute for all-purpose gluten-free flour if you prefer
Yields:
3 Dozen Cookies
Serving Size:
1 Cookie
Preparation
Preheat oven to 350 degrees.
In a medium bowl, mix flour, baking soda, and salt until completely combined.
In a separate bowl, mix together the butter and both types of sugar using an electric mixer. Add in the almond milk and vanilla extract.
Add the dry ingredient mixture to the wet and mix until fully incorporated.
Fold in vegan chocolate chips. Cover the bowl and refrigerate 30 minutes.
Form into tablespoon sized balls and gently press across the top of the cookies.
Bake for 8-10 minutes, or until edges are firm and bottoms are golden brown. Allow to cool on pan for 5-10 minutes, then transfer to a wire cooling rack to finish cooling.
Time to Bake Some Cookies!
When you pull your beautiful vegan chocolate chip cookies out of the oven, don't forget to tag us on social media at @elmhurst1925. Go ahead and order your Unsweetened Almond Milk from us now so you have plenty of hand for dipping and sipping.
Newest Recipes