How to Make Vegan Pumpkin Cheesecake with Plant-Based Milk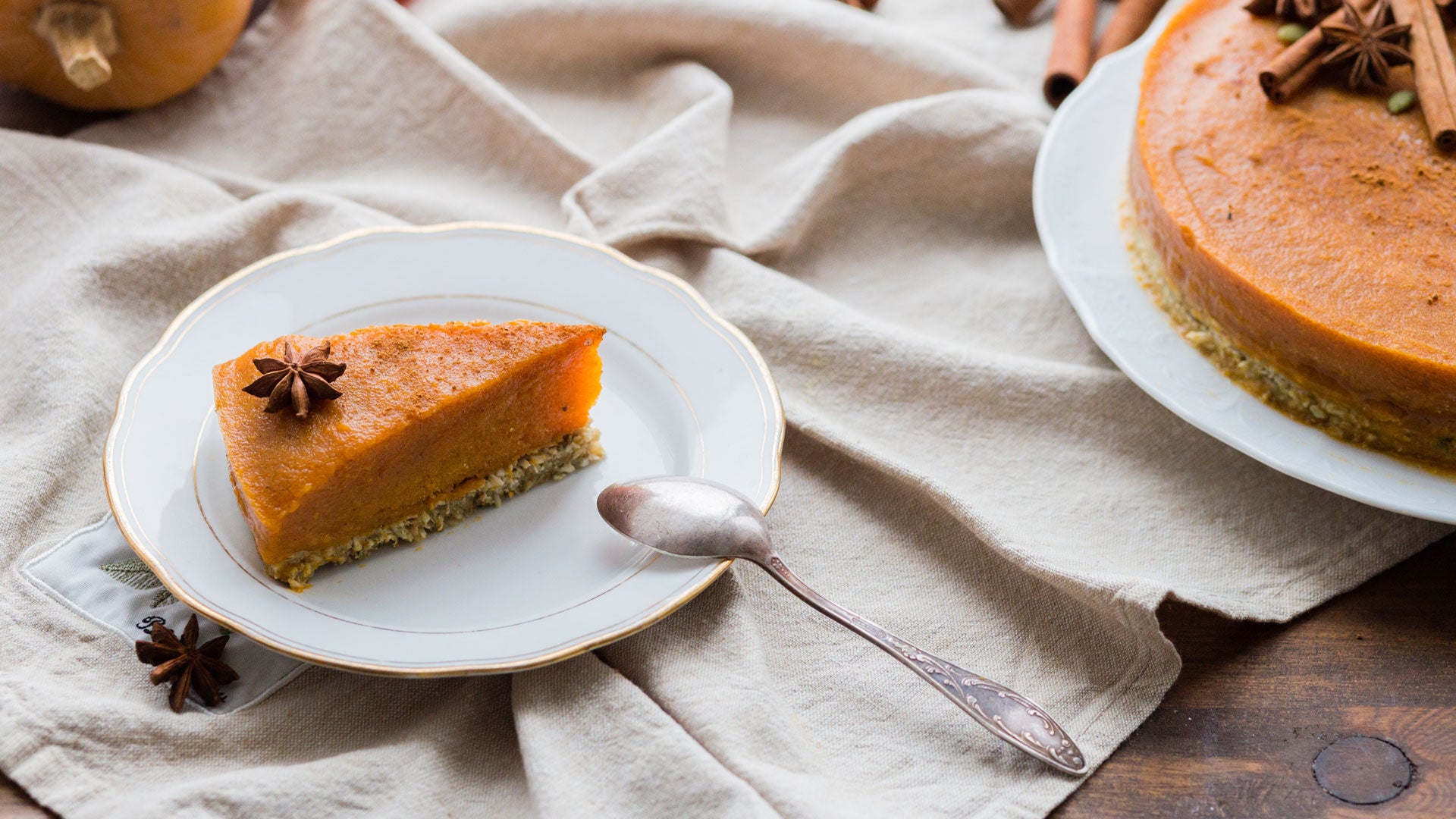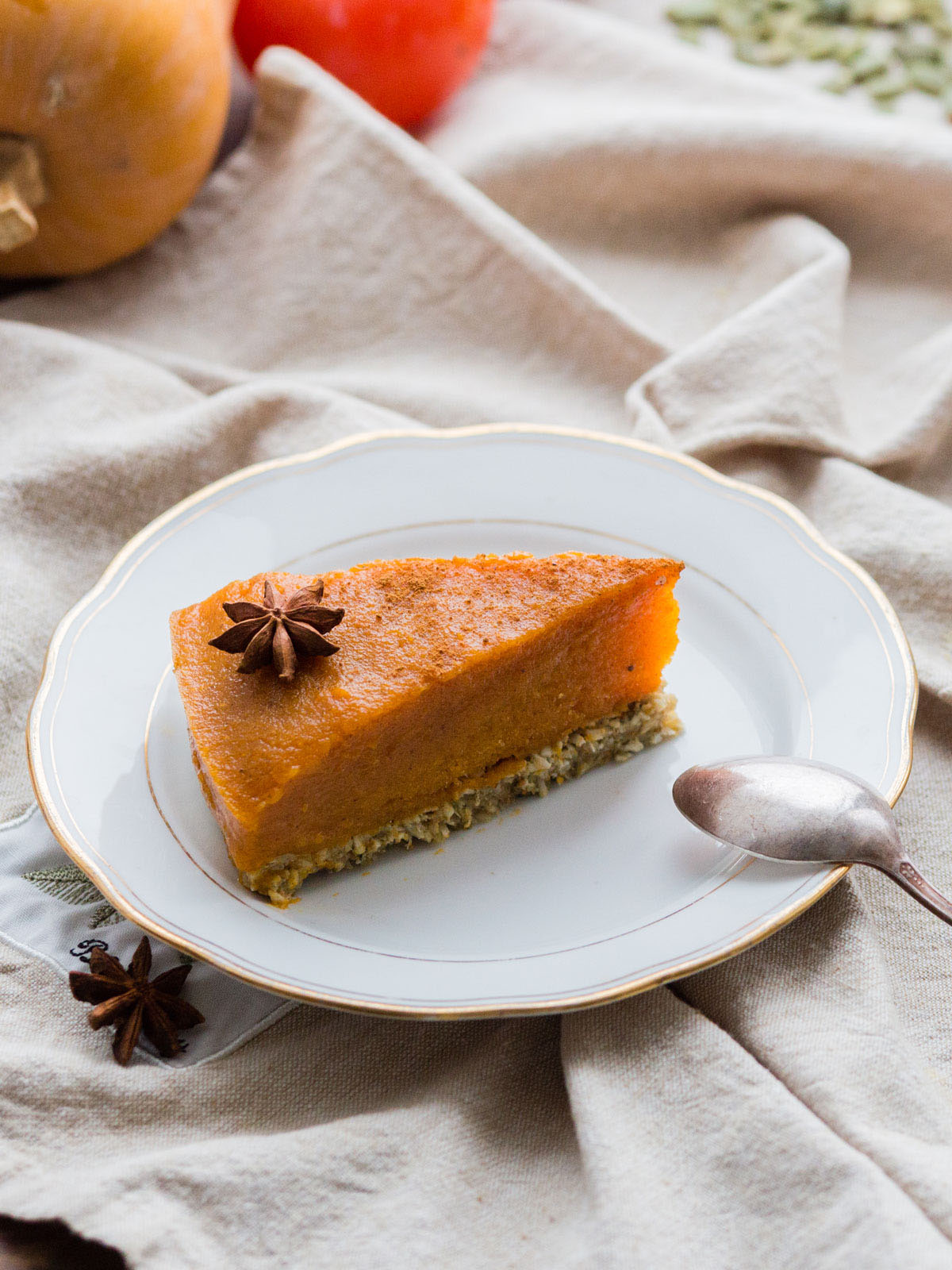 Cheesecake has a reputation for being tricky to make, but this vegan pumpkin cheesecake is far from it. This recipe is sure to make you nostalgic, combining the classic rich and delicious cheesecake, with everyone's favorite pumpkin pie for a recipe that is sure to please. Now anyone can enjoy this dairy-free and easy vegan pumpkin cheesecake practically guilt-free, and you can even make it gluten-free with a few easy adjustments. After just four easy steps, you'll be marveling at a new delicious dessert you can create in the comfort of your own kitchen.
What is Cheesecake?
A classic cheesecake is made with cream, eggs, sugar, and a soft cheese like cream cheese (which is where it gets its name), all on a graham cracker or cookie crust. Funnily enough, it's not technically a cake but closer to a pie or tart. No matter what you call it, cheesecake is one of the best desserts. A soft yet dense texture, a rich and creamy flavor, and plenty of topping options make it almost universally loved.
Unfortunately, many vegans think it's a forbidden treat due its usual base of eggs and cream cheese. With the use of some innovative ingredients like plant-based milks you can create a vegan version that has everything you love and not a dairy or animal-based ingredient in sight. Did you know that dessert can even be good for you? Eating some healthy sweets now and then can have a positive effect on your mood and mental health, so this easy dessert recipe is tailored for helping you do just that.
How to Make a Vegan Cheesecake at Home
You don't need extensive training and a professional kitchen just to create a delicious vegan cheesecake. As long as you have a decent food processor, you can turn out the same amazing treats you'll find at the best vegan bakeries. The texture of cream cheese is replicated in this recipe with the combination of Elmhurst® Unsweetened Milked Cashews™ and soaked raw cashews blended into a creamy base. The pumpkin puree and cornstarch are also essential to the texture, so don't drop either of them without finding a replacement from a similar recipe. The magic of heat helps the cornstarch firm the other three ingredients into a perfect cheesecake texture without the need for dairy or eggs.
Which Pumpkin To Use
The pumpkin that goes into this recipe provides a lot of flavor, so you should pick the variety carefully. Canned pumpkin puree (not pumpkin filling) is just fine, so long as you choose a quality one. Pumpkin pie filling is already flavored and sweetened and may include starches, so it will act unpredictably in this recipe. If you'd like to make your own puree from scratch, look for a small to medium sized pie pumpkin.
Wondering which pumpkin is best for baking? Some common varieties with the flavor and texture for pie-making include Cheese or Baby Cheese, the unique looking Blue Hubbard, Japanese Kabocha, and Jarrahdale. Avoid Sugar Pie pumpkins if possible since they're so watery. You'll likely need to visit a farmer's market to find a good heirloom variety with the flavor you want. Cut the pumpkin into halves or pieces and roast until the flesh is soft, then scoop it out and press the flesh through a sieve or pop it in your food processor to get smooth pumpkin puree with the right amount of moisture in it.
Packing in three grams of fiber and half your daily allowance of Vitamin K per cup of chopped cubes, pumpkin is a nutritional powerhouse. It's also surprisingly high in protein for a starchy vegetable and offers valuable amounts of copper, magnesium, and potassium.
We picked unsweetened cashew milk for this recipe because it blends well with the raw cashews serving as the base of the dish. Cashew milk also packs in great nutrients and protein to make this dessert a surprisingly healthy option. If you've never tried cashew milk, check out this page to learn more about its flavor, versatility, and natural nutritional benefits.
What is Pumpkin Spice?
If you want the authentic pumpkin pie experience when making this cheesecake, you'll need a good pumpkin pie spice mix. Despite the name, there's no pumpkin in this blend. Instead, it's all the common spices added to a good pumpkin pie to round out the flavor. Your mix should contain mostly ground cinnamon, preferably Ceylon, with ¼ as much nutmeg and powdered ginger mixed in. You only need 1/8th as much cloves as cinnamon for a good balance.
Allspice is optional since it tastes like all the other spices mixed together, but it does add some subtle warmth to the mix that makes it worth the addition. Buying pumpkin spice mix is easy enough in the fall and winter, but you're welcome to mix your own blend if you have spices on hand, especially fresh spices since the flavor will be much better than from a dried mix.
How to Tell if Your Cheesecake is Done
Cheesecakes are checked for doneness in the same way that you'd check any other pie without a top, such as pumpkin pie. The cheesecake is done when you can jiggle the pan gently and only see movement in the center of the surface. Waiting until the center stops jiggling will result in an overcooked texture, while jiggling edges indicate a cheesecake that will stay liquid and never firm up. Aim for just a two-inch wide circle of jiggle in the middle for a perfectly done dessert.
More Cheesecake Tips for Success
Why did my cheesecake sink? If your cheesecake looked beautiful coming out of the oven but now has a sunken middle, don't fret. Fillings and toppings hide a crater in an instant. To prevent the problem in the future, avoid mixing too much air into the batter and double the cornstarch for a firmer texture.
Why did my cheesecake crack? Some of the same mistakes that cause sinking cheesecake also lead to cracks. Watch out for the air you mix in and let the cheesecake cool at room temperature first rather than going straight in the fridge so it can set slowly rather than dramatically.
Why didn't my cheesecake set? If you skimped on the cornstarch or used a pumpkin puree on the runnier-side, your cheesecake may not set completely. It will still likely be tasty and worth eating, but try again next time with a drier pumpkin puree and a doubled measure of cornstarch. You may also need to drain the soaked cashews more before processing them.
How long does cheesecake last? Well-wrapped, your cheesecake can hang out in the refrigerator for up to 5 days. It's best frozen even if you plan to eat it in a day or two for optimal flavor and texture.
Can you freeze cheesecake? Cheesecake freezes very well as long as it's completely wrapped to keep out frost and air. You can enjoy a cheesecake for up to six months after baking if it remains frozen.
Ingredients
For The Crust:
• 1 ½ - 2 cups Graham Crackers
• ¼ cup Vegan Butter, melted


For The Filling:
• 1 ¼ cups Raw Cashews, soaked in hot water for 1 hour
• 1 cup Pumpkin Puree
• ½ cup Sugar
• 1 Tbsp. Corn Starch
• 1 tsp. Pumpkin Pie Spice
• 1 tsp. Vanilla Extract
• ¼ tsp. Salt
Preparation
Preheat oven to 350 degrees.
To prepare the crust, add graham crackers to a food processor and pulse until ground. Add melted butter and mix until well combined. Press into the bottom of a pan. For an even crust, try using the bottom of a glass or measuring cup to press flat.
To prepare cheesecake filling, add the unsweetened cashew milk and softened cashews to a food processor and pulse until combined. Add remaining ingredients and blend until creamy and smooth, scraping down sides as needed.
Pour batter over the crust, smoothing out the top. Bake for 25-35 minutes until the edges are golden brown and the center still jiggles slightly. Let cool completely.
Chill for at least 5 hours or overnight before serving. Top with non-dairy whipped cream + dust with cinnamon. Enjoy!
Ready to Test this Recipe out for Yourself?
Give this recipe a spin and then tag us @elmhurst1925 or #ElmhurstRecipes when you share your final results so we can see what you made and for a chance to be featured on our page! We love seeing the tasty dairy-free treats you all make. Out of Unsweetened Milked Cashews? Stock back up on our website here.
Newest Recipes