How to Make Vegan + Gluten-Free Soft Pretzels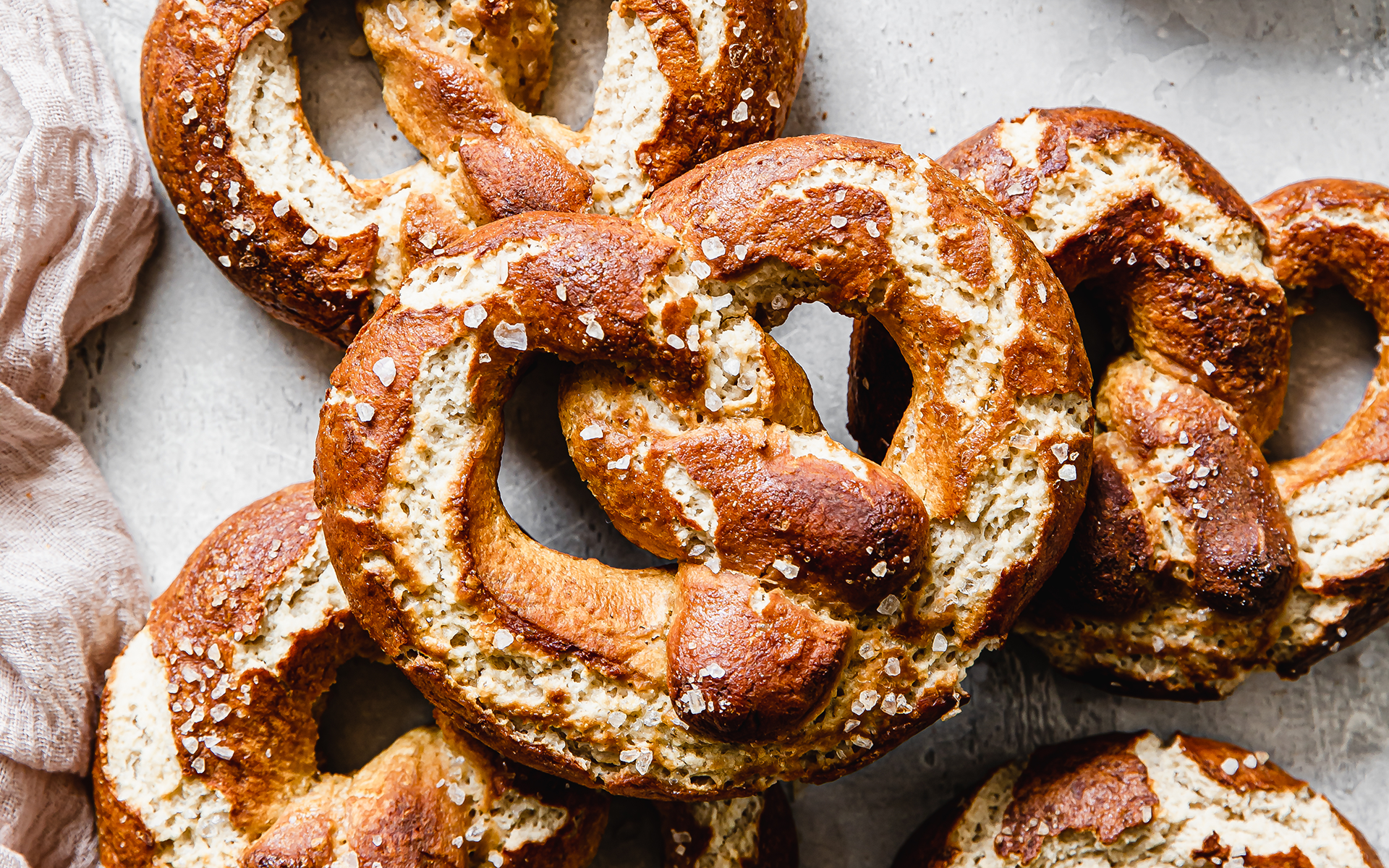 Recipe Created by Julia Koban @
delight.fuel

Makes 8 large pretzels
Soft and chewy with a crispy crust, these homemade German-style soft pretzels are everything you could ever want in a pretzel and more. Made with Unsweetened Milked Cashews, they're gluten-free, dairy-free & perfect to pair with a classic mustard dip! 
Ingredients
3 Tbsp Maple Syrup or Agave
3 tsp Active Dry Yeast
2 ¾ cup GF Oat Flour

 

1 ¼ cup Tapioca Flour

 

1 cup + 2 Tbsp Arrowroot Powder

 

2 Tbsp Ground Flax or Psyllium Husk 

1/3 cup Coconut Oil (melted & cooled) 

2 ½ tsp Salt 

For topping - Coarse Sea Salt
Instructions:
In a small pot, warm cashew milk over medium-low

heat

careful not to overheat.

Remove from heat

and add

maple syrup 

&

yeast, stirring until combined. Let sit for 15 min while yeast activates

 

In a large bowl, combine flour, arrowroot, flax, and salt. Add coconut oil & yeast mixture and mix on medium speed for 5 minutes, or until dough is sticky but firm.
Transfer to a floured surface and knead with tapioca dusted hands (reduces sticking) for 2 min
Shape into a ball and place into a lightly oiled bowl. Cover with a dish towel & set in a warm place for 1 hour rise – dough will double in size.
Bring 10 cups water and baking soda to a boil.
On floured surface, divide dough into 8 pieces and roll into 15-18in long ropes and shape.*
With a spatula, carefully move a pretzel into the boiling water for 30 seconds. Gently lift onto a lined baking sheet. Repeat with remainin 
Let pretzels sit for about 10 minutes while oven preheats to 450F
Sprinkle with coarse sea salt and bake for 15 min or until pretzels are golden brown. Enjoy!
*To get the classic pretzel twist – make a U, then take both ends and cross over each other twice. Fold ends down to the bottom of the U shape and press lightly 
Store leftovers in the freezer and defrost in the microwave/oven before serving again.
Newest Recipes