How to Make Vegan Garlic Mashed Potatoes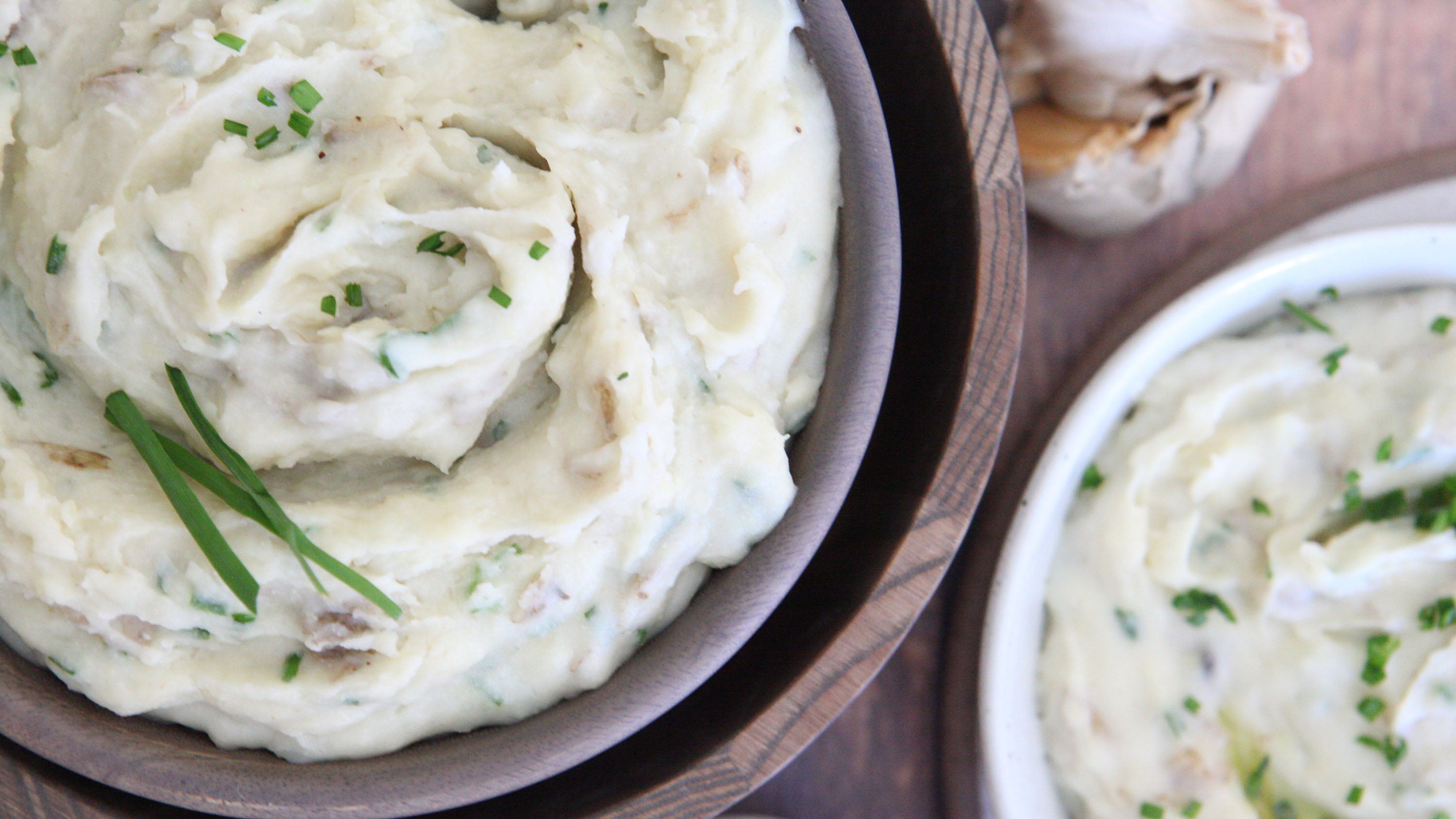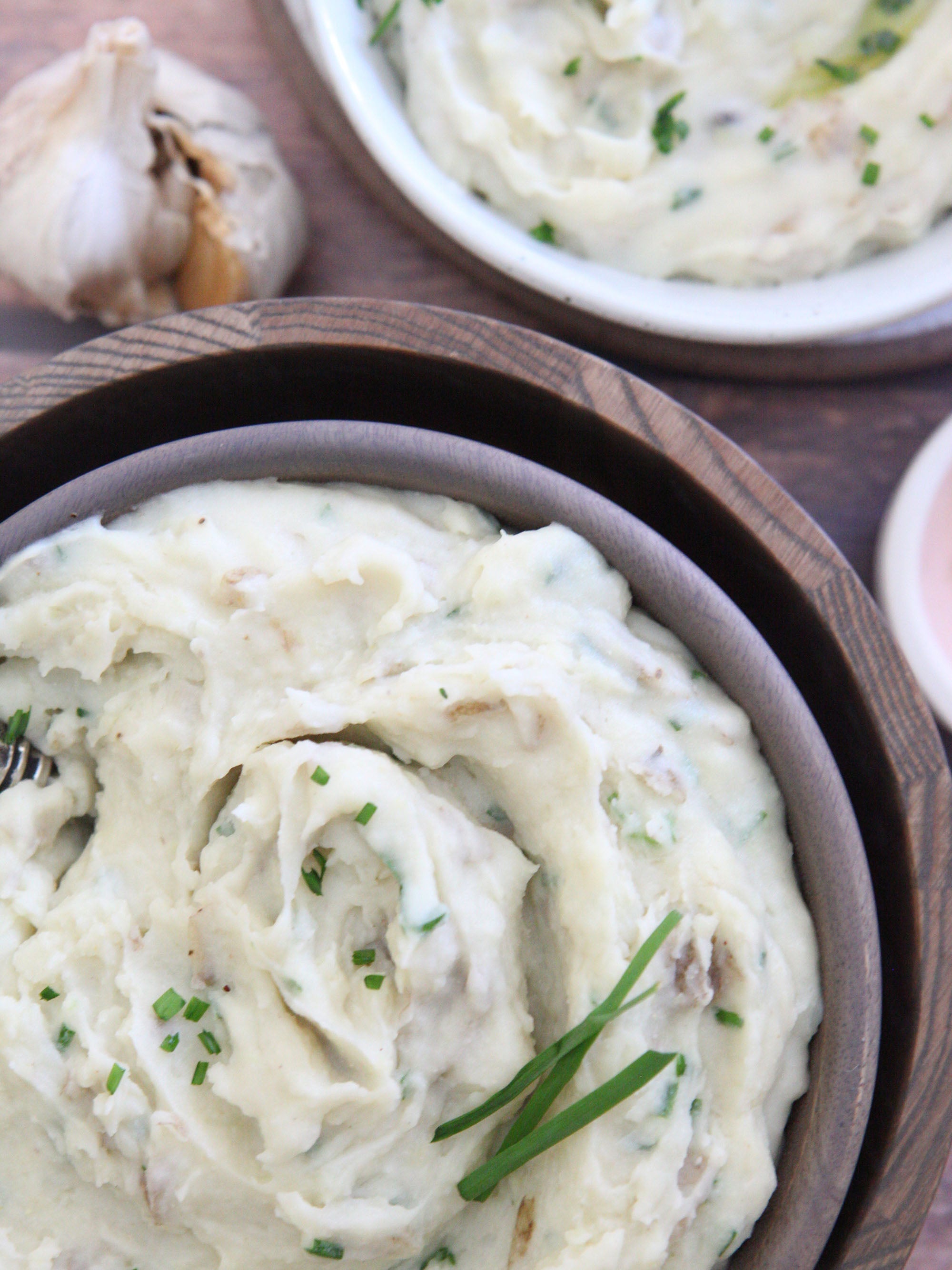 Creamy mashed potatoes are a classic staple. They're amazing as a side on your Thanksgiving and Christmas table, or as part of a simple dinner with friends and family at any time of the year. But most recipes call for excessive amounts of dairy, so not everyone can enjoy them. But now you can make creamy, dreamy, delicious mashed potatoes that are dairy free and gluten free with your favorite Elmhurst Plant Milk. This recipe for homemade garlic mashed potatoes is so delicious that no one will guess that it's completely vegan. In just three easy steps and with five simple ingredients, let's learn how to make the perfect mashed potatoes.
ARE MASHED POTATOES GOOD FOR YOU?
There's the assumption that all rich comfort foods are bad for you, but vegan recipes of these classic dishes are often far healthier. By cutting down on the saturated fat that comes from traditional dairy products like butter and cream, vegan mashed potatoes taste just as creamy when you use the right Plant Milks, and can be better for you. Many traditional recipes even call for adding both sour cream and cream cheese at the same time, resulting in four different heavy, dairy products in one dish. The addition of fresh garlic in our creamy vegan mashed potatoes takes this recipe to the next level of flavor without requiring any animal-based ingredients. So, have your mashed potatoes and eat them too by choosing our vegan recipe for your table.
Potatoes are low in calories, provide more potassium than bananas by weight, and give you a boost of Vitamins C and B6. When you mash them vegan-style, you get the best of their nutrition without so many additional calories and a lot of extra fat. You're welcome to leave your potatoes unpeeled if you prefer a rustic style of mash with more texture, which also increases the nutrients and fiber you're getting from the dish.
HOW TO MAKE CREAMY VEGAN MASHED POTATOES
With these tips, you can experiment and make any type of vegan mashed potatoes you like. Follow the basic instructions on how to make mashed potatoes and then add other seasonings, leave out the garlic, or even try a different type of potato.
WHICH POTATOES ARE BEST FOR MASHED POTATOES?
Classic fluffy white mashed potatoes come out best when made with a potato that is high in starch. Idaho Russets are one example, but they don't always bring a lot of flavor to the dish. 
For the creamiest vegan mashed potatoes, look for Yukon Gold or other gold-colored baking potatoes. These varieties are high in starch so they produce that fluffy texture you want, and yellow varieties tend to have a buttery or creamy taste all on their own that is missing from brown-skinned types like the Russet.
We chose Unsweetened Milked Cashews™ for this recipe because it's ideal for adding creaminess and richness without any added sweetness that might be out of place in mashed potatoes. The subtle nutty flavor of the cashew also plays well with both the starchy potatoes and tangy garlic. No one will even be able to guess it's Cashew Milk in this recipe and they'll be getting even more added benefits without even realizing (learn all about why we love Cashew Milk here.)
HOW LONG TO COOK POTATOES FOR MASHED POTATOES
The success of your mashed potatoes relies on how you cook the potatoes. They need to be boiled until they're soft enough to mash easily, but not so soft that they turn into paste. Following the wrong technique can lead to unevenly cooked potatoes or difficulties determining when they're done.
Start by peeling the potatoes, or scrubbing them well if you want to include the skins in the dish. Cut each potato into quarters and try to keep the pieces roughly the same size. If you have really large potatoes, they may need to be cut smaller. Place them in a pot of cold water, covering the potato pieces by at least an inch, then bring to a rolling boil. Let them cook for at least 15-20 minutes, checking every five minutes by piercing a chunk with a fork. When the potatoes start to slide off quickly or break apart, they're done. Drain the potatoes in a colander until they're as dry as possible, then mash and mix with your other ingredients. Try heating up the Unsweetened Cashew Milk you're using in this recipe to help it blend into the mash for an ultra-creamy finish.
IS GARLIC GOOD FOR YOU?
Garlic is more than just a tasty way to flavor this dish. It's also believed by many to have immune boosting and bacteria fighting abilities. If you're having a hard time finding fresh garlic or don't have time to peel and chop it, you can use ¼ teaspoon garlic powder in this recipe instead. However, consider grabbing a jar of pre-chopped garlic from the store so you can enjoy the taste of it fresh without the extra work.
MORE TIPS FOR THE PERFECT MASHED POTATOES
Why are my mashed potatoes gummy?

Not using the right type of potatoes, mashing them too long or too hard, and leaving too much water in the potatoes after boiling can all result in a gummy or gluey texture.

Why are my mashed potatoes lumpy?

If you mashed to your heart's content but still have lumps, your potatoes cooked unevenly. Make sure they're cut to the same size and start in cold water, then stir them gently every few minutes while boiling.

Why are my mashed potatoes runny? Runny mashed potatoes simply have too much liquid. Either cut back on the amount of C

ashew Milk

you're adding or drain the potatoes better after boiling.

How to store mashed potatoes?

You can keep mashed potatoes in the refrigerator for about three to four days.

Can you freeze mashed potatoes?

Yes! Toss the mashed potatoes in a freezer bag or container, get as much air out as possible, and enjoy them anytime up to one month after freezing.
INGREDIENTS
5 lbs Yukon Gold Potatoes

½ cup Chives, chopped

4 Tbsp. Vegan Butter

2 Tbsp. Garlic, minced

Salt + Pepper to taste
PREPARATION
Place the potatoes in a large pot and add water until covered. Bring to a boil + cook for 20 minutes or until tender.

Drain potatoes and move to a bowl. Add C

ashew Milk

, butter, chives, garlic, and salt + pepper.

With an electric mixer whip until smooth + creamy. Add more C

ashew Milk

for a creamier texture if you'd like.

Finish with fresh chives and enjoy!
SHARE YOUR DISH WITH US!
Are you going to give this recipe a spin at your next gathering, dinner or party? Be sure to tag us @elmhurst1925 or #ElmhurstRecipes in your social media posts so we can check out your success and for a chance to be featured on our page. Still need the Unsweetened Milked Cashews to get started first? Grab a pack here and we'll deliver to you.
Newest Recipes