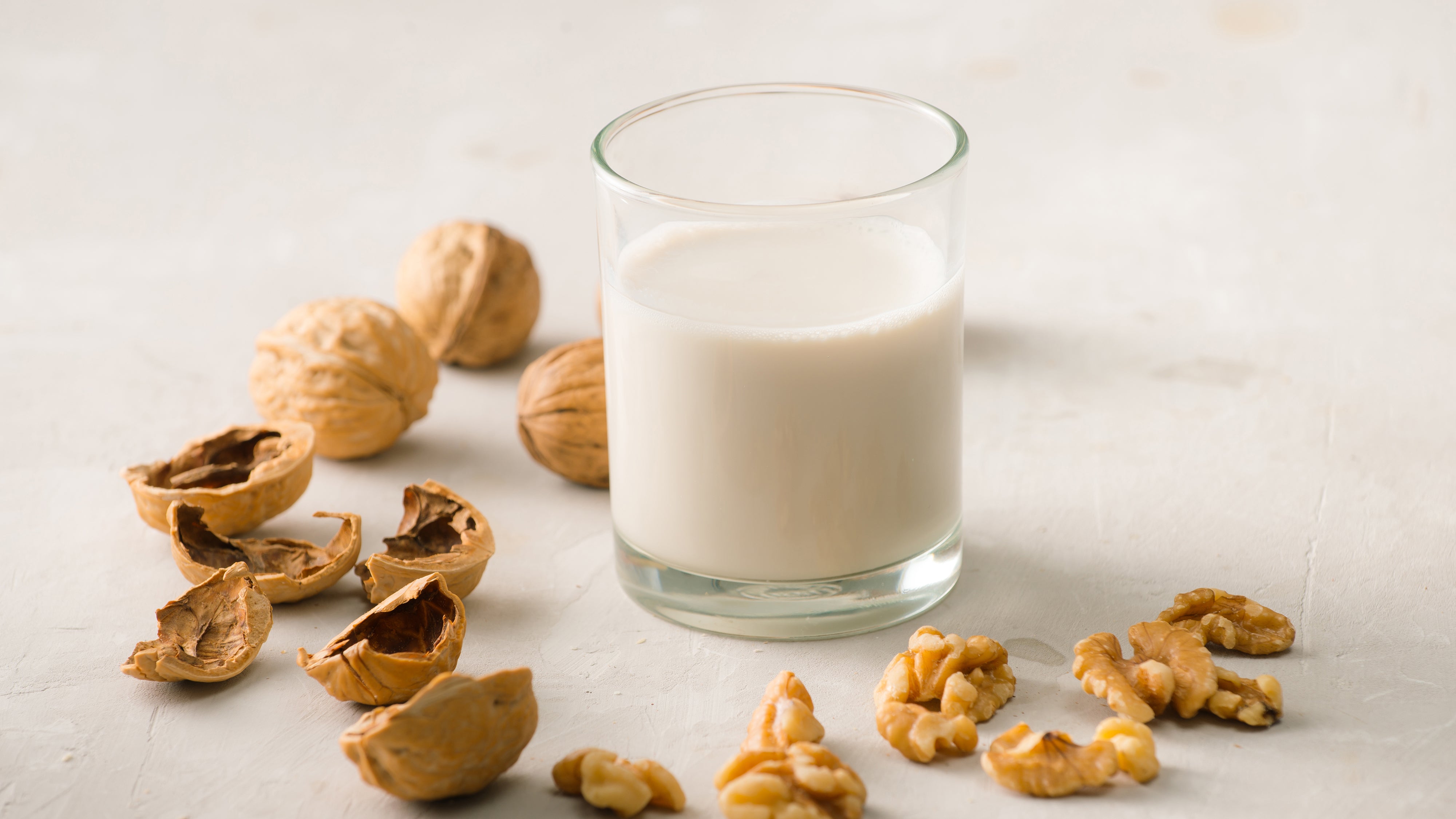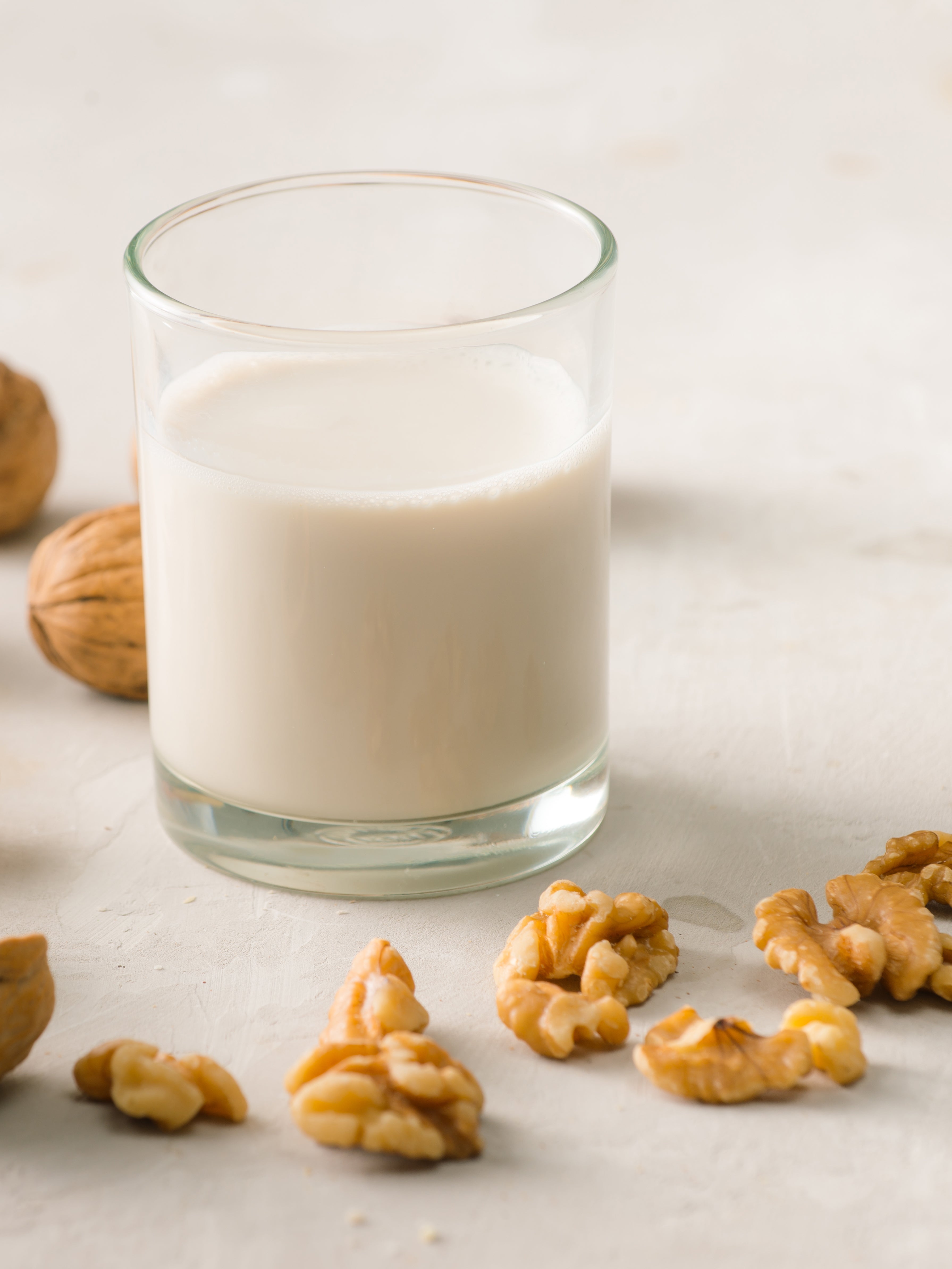 For all of the fervor surrounding nut milks in the early 2010s, no company ever produced a walnut milk until just two years ago. Well, better late than never. This cerebral nut (both in shape and health-promoting properties), encapsulated within a beautiful woody shell, is nutritional gold as far as plants go and we're delighted it's finally receiving the attention it deserves. Sometimes it doesn't matter how or why it happens – as long as it happens. So goes the existence of walnut milk, derived from a nut long-heralded for its taste, nutritional, and even supernatural qualities (the last, unfortunately, we cannot confirm). Here are some fast facts: 1
Walnuts are not botanically a nut, but the edible seeds of a species of stone fruit
The most common species of walnuts are the Persian and English walnuts, originating in Iran and spreading into Europe; as well as the black walnut, native to North America
Flowers or vegetables should never be planted near walnut trees because they secrete chemicals into the surrounding soil that prevent the growth of vegetation
Walnuts can be candied, pickled, ground into nut butter, incorporated into baked goods, or used as the star ingredient in dishes such as the Iranian stew, Fesenjan, or walnut pies
In folk medicine, walnuts were one of 38 ingredients used to prepare Bach flower remedies, elixirs traditionally believed to boost immunity
Husks of walnuts were once used to make various inks for writing and painting purposes, as well as dyes for fabric and hair
Walnut Milk Nutrition Facts
It is often easier to comprehend nutritional benefits by way of comparison. Luckily, there are two commercially available walnut milks out there, and one beats the other by a nutritional landslide. Please keep in mind that while assessing your options, calories and fat are not inherently harmful. The indication of a higher calorie count on a package simply means more walnuts. After all, isn't that what you're expecting? Moreover, modern scientific discoveries have revealed that natural fats do not heighten our risk for cardiovascular disease, but in fact, do just the opposite. 2 Walnuts, high in polyunsaturated fats – specifically omega-3 fatty acids can help keep your heart beating strong! 3 4
Elmhurst Unsweetened Milked Walnuts™ has 4g of fat (Omega-6 & Omega-3) and 3g of protein per serving, compared to 2.5g of fat and 1g of protein per serving for Mariani's original walnut milk. The reason is appropriately simple: Elmhurst uses more walnuts than its competitor, epitomizing what walnut milk can – and should – be. Nowhere is this clearer than its promise, featured boldly on the package, to deliver 1400mg Omega-3 per glass.
Where Mariani does win (irony intended) is the ingredient count. The score is 15 to 5; Mariani's original walnut milk has ten more ingredients than Elmhurst's Original Walnut Milk, including sunflower lecithin, gellan gum, and locust bean gum - not exactly dietary essentials. The score is even more lopsided in unsweetened: Mariani's unsweetened still has 15 ingredients; Elmhurst Unsweetened Milked Walnuts™: 2 – walnuts and water.
So, in channeling the glory of the walnut, Elmhurst is much simpler and better.
Benefits of Walnut Milk
To enjoy the essence of walnut milk, we must start with the source ingredient: walnuts! Walnuts are:
Is Walnut Milk Good for You?
This depends. The benefits illustrated above do not generalize to all walnut milks. The other major brand is little more than a water emulsion, loaded with thickeners to enhance the mouthfeel and fortified with vitamins to compensate for lost nutrients. Elmhurst's HydroRelease™ process, by contrast, yields a product with a higher ratio of nuts to water, preserving all of the walnuts' micro- and micronutrients and drawing creaminess from the key ingredient itself.
Walnut Milk Recipes
One wonderful thing about walnut milk, as with other plant-based milks, is its versatility. Anything is possible: walnut milk ice cream, walnut milk smoothies, walnut milk yogurt, and certainly more. Here are a few recipes to tantalize your taste buds as you travel boldly past the frontiers of convention.
Banana Bread Pancakes
(Serves 6-8)
Ingredients
2 ½ Cups Elmhurst Unsweetened Milked Walnuts™
1 ½ Cups Bananas, Ripe and Mashed
2 Tsp Vanilla Extract
4 Tbsp Light Brown Sugar
2 ½ Cups Flour All Purpose (May Substitute Gluten-Free)
1 Tbsp Baking Powder
1 Tsp Salt
4 Tbsp Earth Balance, Melted
Preparation
In a large bowl combine Elmhurst Unsweetened Milked Walnuts™ mashed banana, and vanilla extract. Whisk together until ingredients are blended together and smooth. Set aside for later use.
In a separate bowl, combine the brown sugar, flour, baking powder, and salt. With a rubber spatula fold in the wet and dry ingredients, then let sit for 5 to 10 minutes.
Over medium heat, ladle about ¼ cup of the batter onto hot griddle. When the batter starts to bubble, flip and cook for an additional 2 to 3 minutes. Repeat with the remaining batter.
Serve with maple syrup and chopped walnuts and enjoy!
Why Choose Elmhurst?
No doubt other walnut milks will turn up, but it's hard to see the first mover being dethroned. This, of course, is Elmhurst. Whereas other brands use nuts in their milks, Elmhurst transforms nuts into milk. Plant milks and dairy alternatives will cycle in and out, some trying very hard to balance purity, nutrition, and flavor; others merely masquerading. Remember, at the end of the day, only one company has a way of making plant-based milks – whether it be walnut milk, almond milk, cashew milk, or any number of others – entirely true to the source, maximizing flavor and nutritive value.