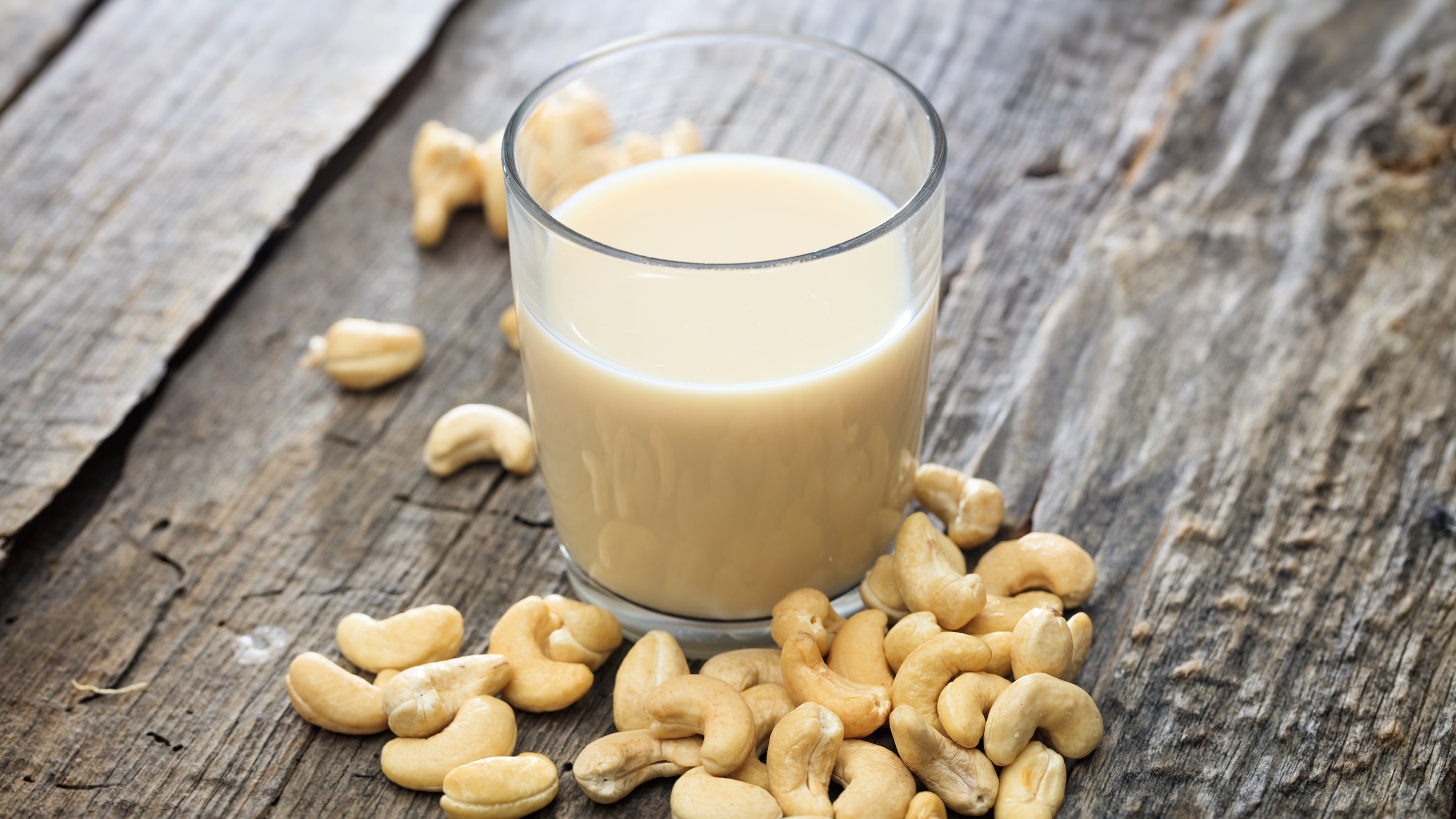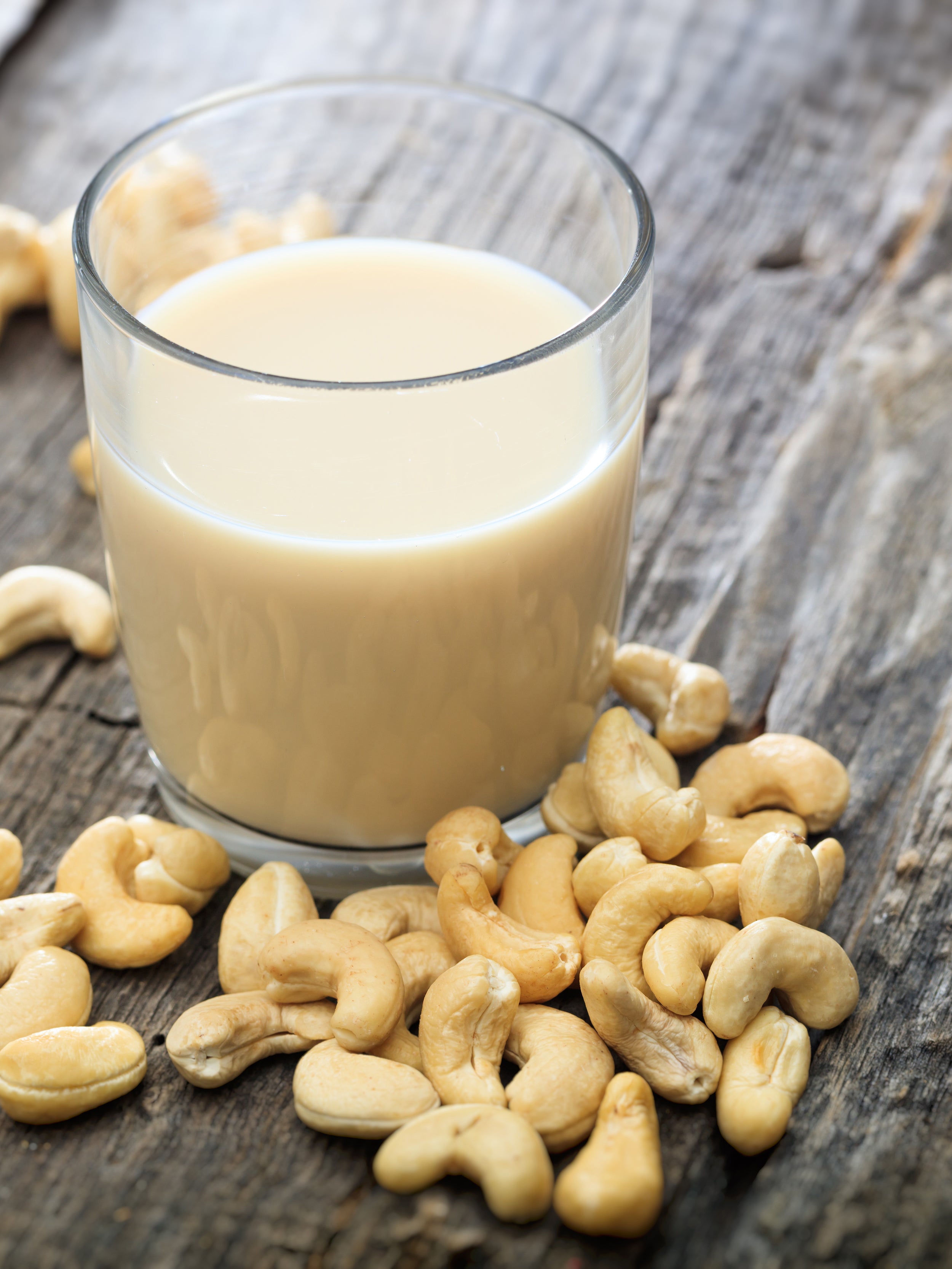 First there was almond milk. Its dizzying acceleration upset the equilibrium of dairy and plant-based alternatives, tilting the moment sharply in favor of the latter. Almond milk grew to be a vastly valuable category. However, it turns out that cash isn't king. Cashew is king. Capitalizing upon almond milk's popularity, companies began swiftly producing a slew of new-fashioned nut milk options. Singularly, leading this second phase was cashew milk, derived from nuts grown on tropical evergreen tropical trees indigenous to Brazil. 1 But its unique pedigree and culinary possibilities don't stop there, as we delineate below: 1
Cashews are actually seeds that sprout from a cashew apple, grown on tropical evergreen trees in Central and South America, the Caribbean, Vietnam, India and the Ivory Coast
To liberate them from their shells, cashews must go through a mechanical steaming process, which means that the raw cashews sold on the supermarket shelves are not technically "raw"
They exhibit the highest concentration of zinc and copper compared to any other nut
Cashews are frequently utilized in Indian and Pakistani cuisines as the base for curries and savory sauces, as well as garnishing desserts. In South Africa, they are ground and mixed with mashed potatoes to make cakes, and in Brazil, the juice and pulp from their fruits are used to produce various sweets and alcoholic beverages
In traditional Maya medicine, the leaves or bark of cashew trees are steeped in tea to create an elixir for treating digestive issues
Cashew Milk Nutrition
There is not a universal nutrition panel for cashew milk, as it can vary significantly between brands. Here are the ranges we found for the most popular, widely-consumed brands, with Elmhurst quantities specified.
Calories

Unsweetened: 25-130 kcal (Elmhurst: 130 kcal)
Sweetened: 60-130 kcal (Elmhurst: 130 kcal)

Fat

2-10g fat (Elmhurst: 10g fat)

Carbs

Unsweetened: 1-7g carbs (Elmhurst: 7g)
Sweetened: 6-8g carbs (Elmhurst: 8g)

Protein

<1-4g protein (Elmhurst: 4g)
Incredibly, Elmhurst's original and unsweetened cashew milk excel in every category – including those traditionally maligned by daytime TV commercials and trendy diets. (Added sugar is the exception for original cashew milk, with Elmhurst using just 1g and its competitors up to 6g.) The reason? It glares at you from the front of the package: up to 5x more nuts per serving compared to other leading brands. The calories, fats, protein, and most of the carbs represent the cashew's natural nutritional composition, and are not derived from adulterating fillers used by competitive brands. Fed through the HydroRelease™ process, the macro- and micronutrient profile of cashews is beautifully preserved, achieving an authentic creaminess with stunning similarity to dairy. You may not even be able to tell the difference!
Benefits of Cashew Milk
Since one cannot generalize cashew milk given the number of brands varying in degrees of nutritional purity, let's explore some ways the nut itself might upgrade your health. Cashews can:
Help reduce risk of cardiovascular disease

Consuming nuts, such as cashews, has been shown to lower risk factors related to cardiovascular disease. 2 In one study of 300 adults with Type 2 Diabetes, participants who followed a diabetic diet high in cashews for 3 months experienced significantly greater improvements in systolic blood pressure and HDL cholesterol levels from baseline compared to those who followed standard diabetic advice. 3

Support bone health

Cashews are a good source of copper, fulfilling over two-thirds of your daily needs in just one ounce. 4 Inadequate intake of this mineral is associated with a lower bone mineral density and a heightened risk of fractures and osteoporosis. 6 Copper also helps maintain collagen and elastin, structural proteins that help support our bones and connective tissues. 7 When copper intake is low, our bodies are unable to rebuild or restore damaged tissues (from exercise, or just daily wear and tear) increasing our risk of joint malfunctions, wrinkles and gum recession. 8
Cashews are also rich in manganese,4 a mineral that joins forces with copper, zinc calcium to prevent osteoporosis. 9

Assist in vision preservation

Cashews contain high levels of lutein and zeaxanthin, carotenoids also responsible for giving green leafy vegetables, paprika and saffron their characteristic colors. When consumed, these compounds are absorbed into the macula lutea (a pigmented area near the center of our retinas), helping to protect our eyes from damage linked to blindness and decreasing the risk of cataracts. 10

Aid in obesity prevention
Is Cashew Milk Good for You?
Based on the aforementioned benefits, the answer should be "yes." However, we would be naïve to claim this for every brand since there is significant variation in both the quantity and quality of ingredients used. Some are little more than water emulsions with a sprinkling of nuts (poor in nutrient density, indicative by lower calorie counts). To cover, these lesser dairy alternative milks might add gums or other thickeners, as well as fortify their products with vitamins and minerals typically lost during processing.
Why settle for an illusory creaminess when you can experience an authentically smooth, buttery texture – derived exclusively from cashews – that is capable of going toe-to-toe with dairy milk? Additionally, why choose fragmented nutrition when you can receive the full array of benefits from cashew milk produced through Elmhurst's remarkable HydroRelease™ process?
Unsweetened Cashew Milk
Cashews possess natural sugars, boasting an intrinsic sweetness that needs no further enhancement from extra sugars. Moreover, for its solid helping of healthy fats and protein, Elmhurst's Unsweetened Milked Cashews™ is Paleo and keto-friendly. A further advantage of unsweetened cashew milk – shared by many quality nut milks, in fact – is its wide application as a relatively neutral ingredient for all sorts of culinary concoctions.
Cashew Milk Recipes
Cashew milk can be remarkably versatile, malleable to so many needs. Indeed, Elmhurst's version is the closest you will get to a 1:1 dairy replacement, unlocking an incredible range of opportunities for substitution in coffee, smoothies, cereal, soups, sauces, baking, and ice cream. Original Milked Cashews even holds membership in Elmhurst's Barista Series for its professional-grade steaming and foaming qualities. If you are eager to see if cashew milk is worthy of the hype, Chef Tristan Hall has some recipes for you to try!
Why Choose Elmhurst?
We've seen it before. A new idea brings an influx of participants, among which many will be imposters, and one or two – if we're lucky – will, in fact, improve upon the idea. There is currently clutter in the marketplace: too many products with too many ingredients and not enough nuts. Yet there is one brand, in particular, which inverts this sad formula. Elmhurst captures whole nutrition and fullness of taste, unlocking the opportunity and inspiration of cashew milk.